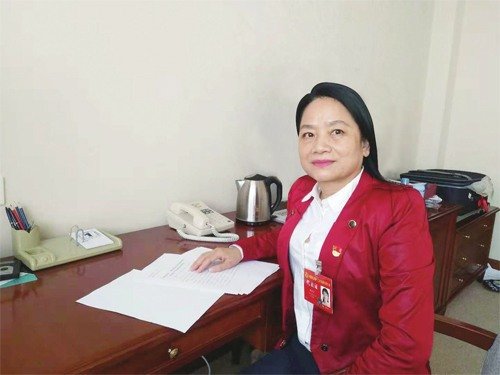 Lin Hanwen [China Women's News]
A self-made entrepreneur from south China's Guangxi Zhuang Autonomous Region has shown persistent efforts in helping disadvantaged women in escaping poverty and leading a better life through the standardized planting and processing of dragon fruit for the past two decades.
Lin Hanwen was a senior employee in charge of sales affairs for an overseas-funded enterprise before she resigned in 1999. She went alone to Yongning, a district of Nanning City, and rented 300 mu (20 hectares) of barren land to cultivate dragon fruits, a cash crop that was unfamiliar to locals.
In the beginning, she visited many agricultural experts at local universities and sought for their advice. All the efforts paid off when her trees grew a bountiful harvest in the autumn of 2000.
Lin registered her own enterprise and set up a plantation base for dragon fruit in 2006 in a move to scale her business.
Like many farmers in south China, Lin suffered huge losses in the winter of 2008 when snow and ice storms swept over the entire region.
Then, she abandon her previous type of tree and instead focus on the cultivation of a high-quality variety from southeast China's Taiwan Province.
Lin fully recovered from the catastrophe and her plantation area of dragon fruit rose up to over 10,000 mu (667 hectares) in 2012.
Moreover, she built a partnership with Guangxi University and Guangxi Academy of Agricultural Sciences in the next year and established a research center dedicated to the development of science and technology related to dragon fruit.
Lin's center was recognized as a national-level base in terms of agricultural technology in 2013.
Meanwhile, she has received a total of 10 patent rights and worked on over 20 products including jam, crisps and juice, in a drive to diversify the scope of her business and boost the market competitiveness.
Lin has committed to providing local underprivileged women such as laid-off workers with employment opportunities and helping others develop their own dragon fruit businesses in parallel with the fast growth of her own venture.
For instance, many female farmers now earn an annual income of over 10,000 yuan from their plantations.
She has been conferred with many awards and titles in recognition of her social actions and the contributions she has made to the improvement of local farmers' lives.
Lin was elected a delegate to the 12th National Women's Congress of China (NWC), which was held in Beijing from October 30-November 2.
"I am deeply grateful to the women's federations for their long-term assistance and cultivation in the management of my business. It is a great honor and responsibility for me to be an NWC delegate," she said.
Lin continued that she would try the utmost efforts to fulfill her responsibilities as an NWC delegate, help more women become employed or set up their own business initiatives, and lead them to strive for a bright future.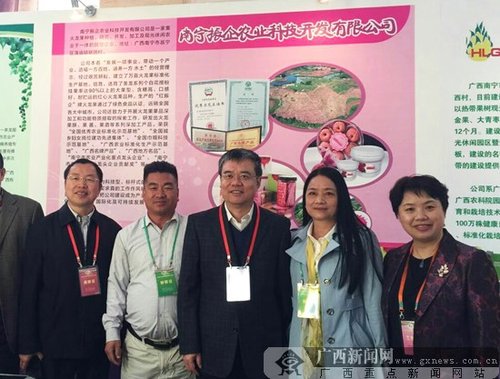 Lin Hanwen (R2) attends an agricultural expo in Beijing. [sub.gxnews.com.cn]
(Source: cnwomen.com.cn, sub.gxnews.com.cn / Translated and edited by Women of China)