Chinese Scientist Earns Praise for Combating Bird Flu Virus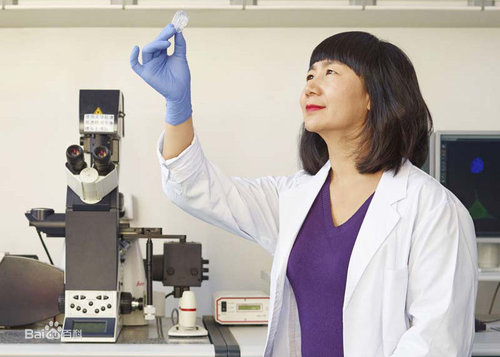 Chen at work [Lanzhou Daily]
A female scientist from Harbin, northeast China's Heilongjiang Province, has earned high praise from the public after dedicating herself to the fight with avian influenza virus for over two decades.
Chen Hualan, 49, is a researcher at Harbin Veterinary Research Institute, an affiliate of the Chinese Academy of Agricultural Sciences (CAAS), and the director of the National Avian Influenza Reference Laboratory.
With her distinguished academic performance, Chen won the L'Oréal-UNESCO Award for Women in Science in 2016, becoming only the fifth Chinese person to be granted the honor.
The UN Educational, Scientific, and Cultural Organization (UNESCO) commented that the move aimed at recognizing Chen's outstanding achievements in avian influenza virus research and the development of relevant vaccines.
"This award is a comprehensive assessment of Chinese researchers' achievements in certain fields," Chen said in a calm and humble manner.
"More laureates will spring up in China as the government makes more investment into scientific research and mounting number of people engage in the field," she added.
After being admitted into the CAAS in 1994, Chen has focused on influenza virus prevention and control measures.
"While most labs abroad are limited to a single field, we simultaneously conduct research into epidemiology, basic virus biology and vaccines," she said with confidence.
Her team has furthered domestic and international abilities to prevent and control the avian influenza virus by establishing advanced technology platforms, developing vaccines and launching a series of pioneering scientific research projects.
In 2013, she had played a major role in China's action against the bird flu strain H7N9. Chen led her team to develop a new type of vaccine which was widely used in China, Vietnam, Indonesia and Egypt.
While pursuing her postdoctoral degree in the U.S., Chen decided to return to China to promote the country's influenza virus prevention and control just after graduation.
In 2002, she started her career at Harbin Veterinary Research Institute and fought against the influenza virus.
"We work to monitor the appearance and changes of new viruses and evaluate whether they will pose threats to the health of human beings and animals," Chen said.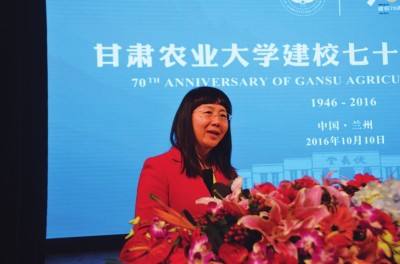 Chen attends the 70th anniversary of Gansu Agricultural University in northwest China's Gansu Province. [Lanzhou Daily]
(Source: Xinhua / Translated and edited by Women of China)