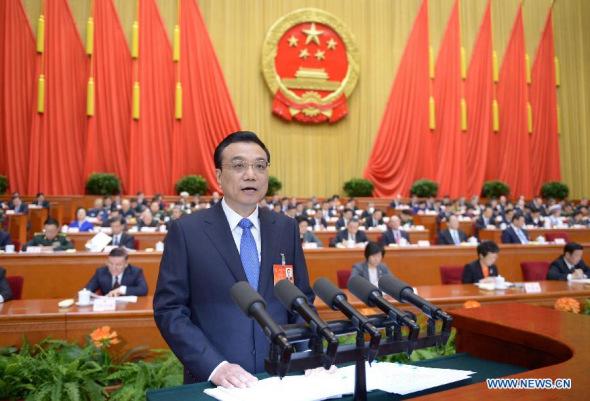 Chinese Premier Li Keqiang delivers the government work report during the opening meeting of the second session of the 12th National People's Congress (NPC) at the Great Hall of the People in Beijing, capital of China, March 5, 2014. [Xinhua]
The 2014 sessions of the National People's Congress (NPC), China's top legislature, and the Chinese People's Political Consultative Conference (CPPCC), the country's top political advisory body, usually called the 'two sessions', have come to an end, and a series of pressing issues affecting the vital interests of the people were discussed, including food safety, anti-pollution, reforms to China's pension scheme for civil servants and easing conflicts between patients and medical staff.
Food Safety
Food safety is frequently at the top of China's political agenda, and was also one of the highlights of the annual NPC and CPPCC meetings. The Minister of Agriculture, Han Changfu, admitted at a press conference held on March 6 that food safety issues are the result of a lack of supervision. Poor supply chain management has frequently led to scares in products ranging from baby milk to cooking oil.
The Chinese government has acknowledged the severe food safety situation and has sought to safeguard food safety with more laws and regulations. The lawmaker suggested that the government raise the punishment for food safety violations.
In his 2014 Chinese government work report, Chinese Premier Li Keqiang pledged, "We will improve safety monitoring systems for food and medicine with the involvement of both central and local governments, and the participation of community bodies. We will strictly follow laws and regulations and comply with standards, and apply the strictest possible oversight, punishment and accountability to prevent and control food contamination and ensure that every bite of food we eat is safe."
Anti-pollution
"We will control non-point agricultural source pollution and build beautiful rural areas. We will declare war on pollution and fight it with the same determination we battled poverty," Premier Li said in this year's government work report.
Environmental degradation has emerged as a serious downside of China's rapid development. Frequent smog over northern and eastern China has brought intense frustration and countless complaints from hundreds of millions of people who live in the murk. Many regions also continue to suffer from polluted ground water.
That China declared war against pollution embodied the Chinese government's resolution to curb environmental pollution through industrial restructuring and technological advances.
Household Registration System
The Chinese government will introduce a residence permit system for rural people in urban areas who have not yet gained urban residency, according to the 2014 government work report.
The household registration system splits China's 1.3 billion people into rural and non-rural residents, preventing rural migrants living in cities from enjoying the same social welfare as urbanites.
"We will reform the household registration system, and implement a household registration policy with different eligibility requirements for people of different conditions, and progressively grant urban residency to rural migrant workers and their families who are both willing and able to stay in cities and towns where they work or do business for a long time," Premier Li said.
China unveiled an urbanization plan for the 2014-2020 period on March 16, 2014, in an effort to steer the country's urbanization towards a human-centered and environmentally friendly path.
Deputies to the China's 2014 'two sessions' held that reforming the household registrations system will enable all permanent resident populations to be covered by the cities' public services, and let both migrant workers and urban residents enjoy the fruits of modern civilization.
Credit Blacklist
Over 83,000 names on the credit blacklist of debt defaulters have been made public, all of whom have failed to abide by judicial judgments since October 2013, announced the Supreme People's Court (SPC).
The move, that sees the courts blacklist people who refuse or fail to enforce judicial decrees through false evidence, violence and threats, and those who use fraudulent litigation, arbitration and property transfers to avoid performing their duties, is to help deter defendants from defaulting on a judicial decree as well as promote the establishment of the social credit system.
Debt defaulters will be banned from booking flights and will be restricted in applying for loans or credit cards, according to the rules.
Some 72,000 defaulters have been punished, and 20 percent of the listed debt defaulters have carried out their obligations afterwards, according to Zhou Qiang, president of the SPC.
Implementing the System of Paid Vacations
The 2014 government work report also talked of "implementing the system of paid vacations."
"The rules sometimes are not fully implemented and we cannot evade the existing problems," said National Tourism Administration Chief Shao Qiwei, "If enterprises request their employees to work during statutory holidays, they should pay them overtime wages in line with the law."
Expanding Non-state Capital Investment
The 2014 government work report stated, "We will formulate measures for non-state capital to participate in investment projects of central government enterprises, and allow non-state capital to participate in a number of projects in areas such as banking, oil, electricity, railway, telecommunications, resource development and public utilities."
By the end of 2013, the number of Chinese private companies reached 12.53 million, with total registered capital of more than 39.3 trillion yuan (U.S. $6.3 trillion), according to the All-China Federation of Industry and Commerce.
In 2012, investment from private companies accounted for more than 61 percent of the total fixed-asset investment.
Deputies said that private capital can stimulate economic development and generate more tangible benefits to the people.
Reforming Insurance Systems for Civil Servants
Including civil servants in the public medical insurance system is the first step to regularize China's healthcare reform, China daily reported.
Reforming the insurance system of civil servants has been a hot topic in the past few months. Although they account for a relatively small number of people, they take up a large proportion of China's medical resources. Public hospitals have to sell expensive medicine to squeeze more profits. This ill and unfair healthcare subsidy system distorts the supply-and-demand relations of China's medical market.
The 2014 government work report said, "We will establish a unified basic old-age insurance system for both rural and non-working urban residents, and improve the way it is linked with the old-age insurance system for working people. We will reform the old-age insurance system for government bodies and public institutions."
Civil Servant Pay Raise
"Civil servants at the grassroots level work very hard, but their income is relatively low, which affects their morale at work," said Yang Shiqiu, a member of CPPCC National Committee.
With the implementation of the eight principles issued by the central government in late 2012 to advocate frugality and combat corruption, civil servants have complained that their income is too low, and they now lack previous benefits that made the job worthwhile.
Other deputies argued that public servants' salaries are actually not low, considering the various hidden perks and welfare for food, transportation, housing, communication and medical care.
Some deputies pointed out that greater transparency for civil servants' salaries is needed and the hidden "grey" income should be prohibited.
Education Equality
The 2014 government work report stated, "We will give high priority to developing education and making it more equitable. We will continue to allocate more educational resources to central and western regions and rural areas, and promote the balanced development of compulsory education. We will comprehensively improve conditions in poorly built and run schools providing compulsory education in poor areas. The number of rural students from poor areas enrolled in key colleges and universities will again be increased by more than 10%, this will give rural children more opportunity to receive higher education."
Deputies held that the promise is a positive sign that the Chinese government will pay more attention to closing the education gap between cities and rural areas. Students from rural areas, especially those living in poverty, need more opportunities to pursue their studies.
Some deputies also said that special care is also needed when these students from underdeveloped rural areas seek a job.
Doctor-patient Disputes
A number of recent cases of violence against medical staff have underscored this long-standing problem, as authorities struggle to prevent tensions between patients and doctors, the Global Times reported.
Deputies at this year's "two sessions" also focused on how to build harmonious relations between doctors and patients.
Experts attribute the trend to a range of factors, including a lack of communication, the improper behavior of doctors, and an incomplete legal mechanism for solving the problems.
Deputies said relevant hospitals should improve their service and avoid deliberately prescribing expensive drugs to earn profits. As for authorities, they should improve the system of filing a complaint against doctors for bad behavior, maintain order in medical institutions so that anyone who disrupts order there should be punished by the law, and ramp up the role of the law in preventing medical disputes from happening.
(Source: Xinhua/Translated by womenofchina.cn)