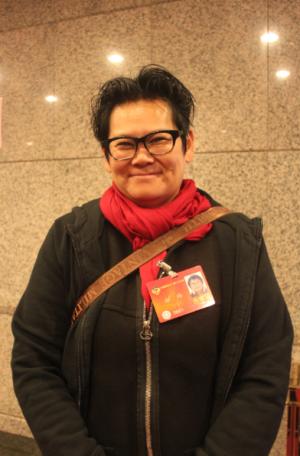 Zheng Yi, President of the Hong Kong Letian Pottery Club.[Women of China/Li Wenjie]
Members of the 12th National Committee of the Chinese People's Political Consultative Conference (CPPCC) gave their understandings and views on women and family during the ongoing second session of the 12th CPPCC on March 8, 2014 in Beijing.
Zheng Yi, President of the Pottery Workshop in Hong Kong, said, "Women should focus on their education.If a family has two children, a boy and a girl, and can only afford to send one of them to school, then they should consider giving the girl the opportunity. Because she is going to become a mother, she will have the greatest impact on the next generation. In terms of family education, women bear a lot of the responsibility when it comes to cultural and aesthetic education of children, as women tend to be the primary care-givers. The children ask to see temples, museums and cultural areas when we travel. Of course, the men in the family have responsibility in education too. My husband is very interested in making sure our children gain some knowledge of music."
Ye Shunxing, Chiarperson of the Hong Kong Federation of Women, said, "Can women afford both a career and a family? It depends. In the family, the greatest impact on the child is from the mother. I have been taught that boys and girls should be diligent and do housework. Hong Kong women give the impression of being independent and hardworking. When it comes to the balance between career and family, women in Hong Kong are facing different challenges due to the income disparity between them: working-class women have a greater burden and have to attend to family affairs themselves; middle-class women are faring better, because they can hire someone to help them with housework, and they have more space to focus on their careers and their children's education; while women of the upper classes, the financial elite, have the most autonomy among all women.
Li Ling, a first-level actress of the National Theatre of China, said, "Women must give their children a good family education. Now, many parents pay more attention to their children's studies of more rigorously academic subjects, but fall behind in developing their appreciation of literature. In this regard, women bear a great responsibility. If the parents do not establish a good example for their children, but always bicker and quarrel in front of them, their children will do worse than them in life or never become parents themselves, because of the negative example their own parents set.
I'm ok with the status quo where a woman takes care of the children, and lets her husband take care of providing financial support to the family. In my opinion, this is the great sacrifice women make. Many young women are well-educated and have good careers but they give up work and dedicate their lives to taking care of their children, which impresses me. Of course, this requires certain economic conditions, and also requires coordination and consultation between wifes and husbands.