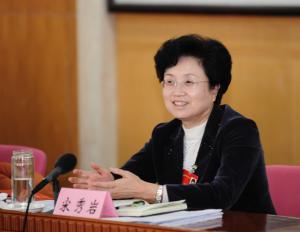 Vice President and First Member of the Secretariat of the All-China Women's Federation (ACWF) Song Xiuyan at the meeting [Women of China/Fan Wenjun]
Members representing women's federations at the ongoing second session of the 12th National Committee of the Chinese People's Political Consultative Conference (CPPCC) offered advice and suggestions from various angles in Beijing on March 7, 2014.

In attendance at the meeting were Vice President and First Member of the Secretariat of the All-China Women's Federation (ACWF) Song Xiuyan and other government officials from the China Meteorological Administration, China Tobacco, the State Administration of Cultural Heritage and other sectors.

"Relevant data shows that the rate of teenager smokers in China is 6.3 percent and the rate of female smokers is 2.4 percent, with the number of female smokers reaching 15.6 million," said Wu Ming. "Although some improvement has been made in setting up regulations and policies on tobacco control, the implementation has not yet reached the designated position." Wu suggested that the government attach greater importance to education among women, children and teenagers to keep them away from smoking.

"The current management system of arbitration in China is far from perfect and reform is urgent," said Li Renzhen. "I suggest that the government strengthen the registration administration of arbitration, set up a national arbitration society, and modify the Arbitration Law."

"CPPCC members should further exert their role in their own sectors," said Cheng Ping. "On launching research in different sectors, CPPCC members can first select their research subjects through online polls and then decide which subject is most representative." Cheng also suggested that women's federation representatives should consult with CPPCC offices about their research subjects, based on their individual advantages and interests.

"The protection of cultural relics in China is far from perfect, which can be seen in the destruction of historical relics, theft of cultural relics, commercialization of cultural sites, the lack of supervision of cultural relics, and lack of cultural relic experts," said President of the Dunhuang Academy Fan Jinshi. Fan suggested that world-level cultural relics should be protected by both the central and provincial governments, and more cultural relic experts should be developed and reserved.

"I suggest building a scientific legal system with authority and efficiency, which is crucial for the realization of the Chinese Dream and the great rejuvenation of the Chinese nation," said Dean of the Vocational School of China Academy of Art Wu Haiyan. "Legal authority should be established across the whole of society."