The 21st Century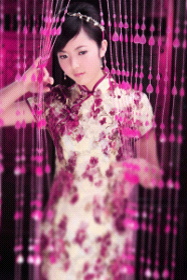 The cheongsam today [Changgongan.blog.163.com]
The greatest fashion aspiration of Chinese women in the early years of the 21st century was to wear designs that expressed their personality. On a more commercial level, however, the Tang suit and cheongsam were an international hit. The popularity of the cheongsam is largely attributable to Wong Kar-wai's In the Mood for Love of 2000 set against the backdrop of Hong Kong in the 1960s, in which Maggie Cheung in the leading role wears ten or more designs of cheongsam. The eminent femininity of this traditional Chinese gown sparked a cheongsam fever that still rages throughout the world.
The late Michael Jackson supports African countries' struggle against HIV/AIDS on Capitol Hill on March 31, 2004, wearing a red Tang suit. [Changsha.cn]
The traditional Tang suit in auspicious red was also an international favorite at the start of the new millennium, which hence began in a red sartorial cascade.
Today's diverse channels of fashion information offer multiple trends of fashion that appeal to all tastes. The deepening of China's foreign cultural exchanges has also added China's traditional wear to world fashion modes.As soon as Chinese women were able to free themselves from the bounds of politics and convention they joined the feminine pursuit of beauty as a means of self expression. In the past two decades they have caught up with international trends, bringing to it elements of oriental artistry.

(Source: efu.com.cn/Translated and edited by womenofchina.cn)