Suzhou is permeated right through with garden atmosphere. Such classical gardens were actually the dream of a lifetime home to which the Chinese of old aspired. The famous gardens are few in number, but garden architecture has a solid popular foundation in Suzhou and you can find gardens large and small in the homes of ordinary folk perhaps just a rockery or a tall and slender bamboo.
Zhouzhuang Water Town Photo Tour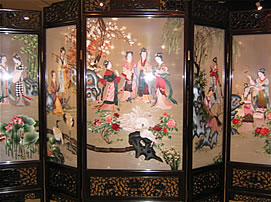 Suzhou Silk Photo Tour
Lovely Suzhou maintains a distinctive Chinese flavor with quaint canals, stunning gardens, hearty food, and beautiful ladies in elegant silk.
Disappear or lose yourself in the classical gardens of Suzhou - a fusion of nature, poetry and painting designed to ease, move or assist the mind.
Experience the ambience of classical Chinese garden at night and enjoy the Garden Show, a cultural performance of Chinese traditional musical instruments.
Visit a silk factory in Suzhou - China's leading silk producer, and see how the silk is processed from the silkworm to the final woven cloth.
Float down the Grand Canal, the world's oldest and longest waterway, to see the local people's life in classical South-China style.
See the streets, the open markets and the local people's life by a rickshaw ride along canals and over bridges through the old town of Suzhou.
Step back in time in the cobbled lanes of ancient water townships of the Yangtze River, such as Zhouzhuang, Luzhi and Tongli.
Ring the bell in the Hanshan Temple, one of most famous temples in China with a lot of cultural relics.
Walk along and admire the Panmen Gate, one of the oldest and best-preserved land and water gate in China.
Climb the Tiger Hill, a place with many hidden secrets and legends and a number of historical sites and admire its leaning tower.