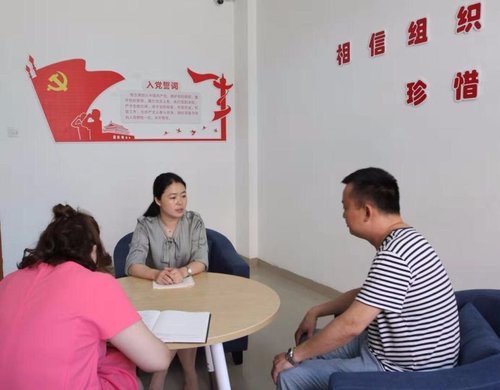 Fan Xiaohua (center) [Women Voice]
A courageous official from Shifang, southwest China's Sichuan Province, has committed herself to discipline investigation and supervision work for the past two years to bring more stability to the city and fight crimes.
Fan Xiaohua, 40, was appointed in 2016 as a standing committee member of the Shifang Municipal Committee of the Communist Party of China (CPC) and secretary of Shifang Municipal Discipline Inspection Commission.
When she previously worked as vice-director general at the mass work department of the municipal Party committee, Fan was always patient and good-tempered.
Nowadays, she dares to react against misconduct decisively and resolutely.
Many villagers in the Mount Yinghua scenic area of Shifang have built private houses and farmhouse resorts illegally in the last few years and relevant departments turned a deaf ear to the situation.
Having decided to solve this major problem, Fan set up four teams in August 2017 to conduct field surveys every day to advance the official investigation.
Some people tried to persuade her to stop the investigation through bribes and threatening. However, Fan still handled every case impartially.
"Only strict discipline enforcement can eradicate illegal actions," she says.
Finally, a total of 39 Party members were held accountable for their actions and the illegal construction problem was solved.
In another case, the slow construction of a local sewage treatment plant affected the water quality in Tuojiang River.
Fan believes that natural ecology is as important as political ecosystem. Based on the accountability system, she led a team to investigate and urged relevant departments to solve the problem within just 15 days.
Moreover, Fan paid close attention to identifying problems early and correcting them while they are nascent.
Fan has done her part in promoting the development of good family traditions in Shifang, which helped form a new model to promote positive family culture among officials and society.
Zheng Dongfeng, deputy secretary of Sichuan Commission for Discipline Inspection, expressed appreciation of Shifang's achievements in building a clean government, fighting corruption and building harmonious communities in his inspection visit to the city in March last year.
Under the leadership of Fan, Shifang has made great achievements in the reform of the city's supervision system and inspection of poverty alleviation work.
Fan gives a speech at a publicity activity on fighting gang crime. [Women Voice]
Fan talks with two local citizens. [Women Voice]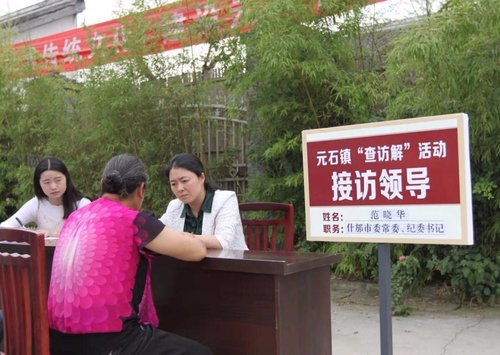 Fan makes a personal inspection visit to Yuanshi Town, Shifang. [Women Voice]
(Source: Women Voice/Translated and edited by Women of China)