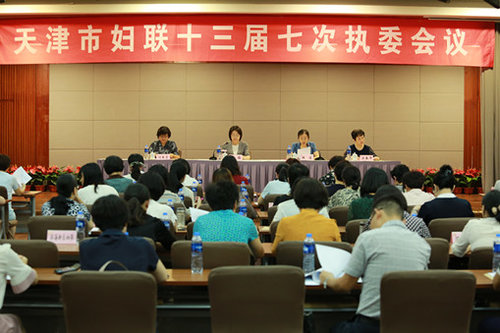 Attendees at the executive conference on August 24 [Tianjin Women's Federation]
Tianjin Women's Federation (TWF) held the seventh session of its 13th executive committee on August 24 and elected 41 candidates for delegates who will attend the 12th National Women's Congress of China (NWC).
The 12th NWC, which is a high-level event affecting millions of Chinese women, will be held in Beijing this year.
The Tianjin Municipal Committee of the Communist Party of China (CPC) has attached great importance to the election of NWC delegates, said officials.
Meanwhile, the federation has made a firm implementation of the requirements given by the All-China Women's Federation on election work, and closely followed relevant regulatory procedures in a move to select candidates with sound political competence.
At the latest gathering, Gao Boyan, chief-editor of Women of China (Chinese) magazine; Dai Yun, secretary of the Leading Party Group and president of TWF; and, 39 other candidates were jointly endorsed to attend the Congress on behalf of over seven million women and children in the northern coastal city.
Speaking at the executive conference, Dai extended her congratulations to those newly elected NWC delegates. She urged them to have a clear understanding of their political responsibility, make full use of their personal political rights, and live up to the expectations of them from the Tianjin municipal Party committee and the public.
In terms of preparations for the 14th Tianjin Municipal Women's Congress and the implementation of important decisions made at the 12th NWC, Dai emphasized that women's federations should further strengthen their political construction, boost the morale of staff, improve working styles, and strive for the completion of all set objectives and targets in connection with women and children's affairs.
Dai Yun speaks at the meeting. [Tianjin Women's Federation]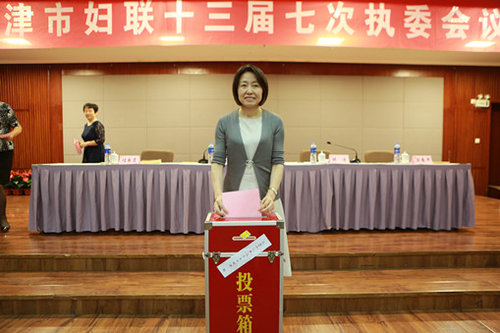 Dai Yun casts her vote at the meeting. [Tianjin Women's Federation]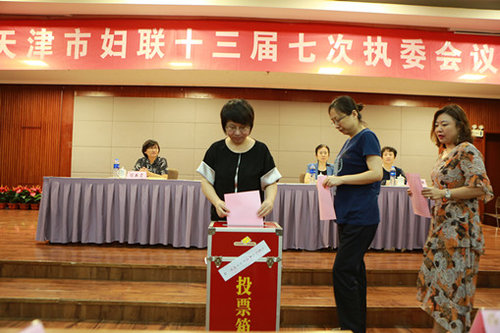 Participants cast their votes at the meeting. [Tianjin Women's Federation]
(Source: Tianjin Women's Federation/Translated and edited by Women of China)