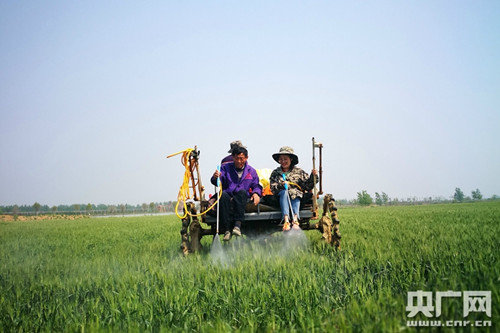 Wang Mengmeng (R) and a villager jointly spray their crops with insecticide. [cnr.cn]
A college-grad village official in east China's Anhui Province has been dedicated to leading local people to develop local economy and boost their personal incomes since she relocated there five years ago.
Wang Mengmeng, 30, was inspired to follow this path after several graduate-turned village officials visited Hefei University of Technology and shared their work experience stories.
Wang was further determined to make her plans a reality when she met a rural woman with her child by chance on a construction site on campus in April 2013 and learned about the suffering and difficulties they faced as peasant workers far away from home.
After working at another placement for around a year, Wang was appointed Party chief of the village of Xikong in Dingyuan County in 2015.
Prior to her arrival, many youngsters often left their parents and children to find employment opportunities in far-off cities. The annual income per family was only 8,000 yuan on average.
Moreover, the roads in Xikong would become muddy when rain came.
She made up her mind to do something for the village and improve the lives of local people at the start of her term of office.
Drawing upon Xikong's convenient access to an expressway, which links it with Hefei, the capital city of Anhui, as well as Nanjing, the capital city of Jiangsu Province, Wang planned to develop sightseeing agriculture and meet the demands of nearby city dwellers.
With financial assistance of 700,000 yuan from her family and a subsidized loan of 300,000 yuan from a bank, Wang leased an area of around 6.7 hectares from farmers.
Apart from learning agricultural technology online, she often invited experts to give their assistance in the plantation of strawberries and the management of tourism-oriented agribusinesses.
It took only a year for Wang to completely recover her initial investment.
Since then, many villagers have followed her to grow lucrative vegetable and fruit crops and to cultivate livestock, in a drive to further increase their income.
In addition, she has worked closely with the local department of human resources and social security to provide villagers with employment opportunities and vocational training at home.
When talking about the key to rural revitalization, Wang emphasized the gathering of talented personnel.
She said in an interview that she has never felt regret for her choice to be a rural official and added that she will spare no efforts to lead local people to become prosperous and build the village to be even more beautiful in the future.
Wang Mengmeng works on her farmland. [cnr.cn]
Wang Mengmeng (L1) displays her strawberries. [cnr.cn]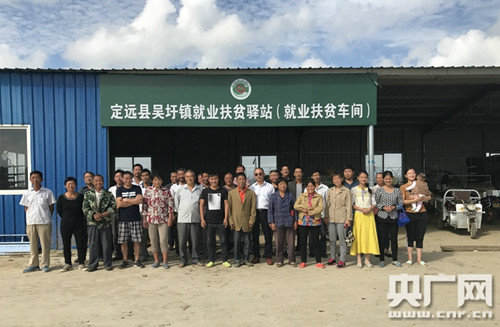 Local beneficiaries of a poverty relief workshop set up by Wang Mengmeng [cnr.cn]
(Source: cnr.cn/Translated and edited by Women of China)