The influence of a famous micro-blogging campaign in China to save abducted children started about two months ago by Yu Jianrong, a rural expert with the Chinese Academy of Social Sciences reached new heights with a formal proposal in the NPC and CPPCC sessions, made by Chi Susheng, a NPC deputy and member of the standing committee of Qiqihar Municipal Committee of Jiu San Society.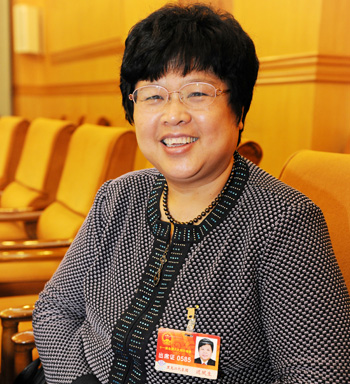 NPC deputy Chi Susheng[Women of China/Fan Wenjun]
In the following interview with Women of China, Ms. Chi talks with the reporter about her role in the whole-society-wide campaign of anti-trafficking.
"Professor Yu (Yu Jianrong, initiator of the micro-blogging anti-trafficking campaign) has been a close friend to me. After the campaign quickly gained impetus on the Internet, he contacted me and talked about the possibility of tendering a proposal to the NPC and CPPCC sessions," Chi said and admitted that the campaign also attracted her special concern.
She informs the reporter that these child beggars, who mostly failed to receive nine-year compulsory education or enjoy normal family emotional support, would usually grow up to be cruel in character; and the cold thinking pattern could sometimes ruin their life.
In explaining the point, she gave the reporter an example.
"I once represented an 18-year-old in court. He hijacked a Taxicab, killed the driver, dismembered the corpse and discarded the body parts, even after the driver had surrendered and given up his cab. The driver begged for his life and said he was driving cabs to support his daughter's education in university. However the defendant could not understand such emotional attachment because as an abandoned child who had grown up on the street, he never experienced the same kind of warm feelings," Chi recalled sadly.