There are some elegant and talented female athletes who are single. Many people speculate on who they are going to marry, but for various reasons, they are still searching for their "Mr. Right."
They are successful in their sports career, but they do not have love. As people say, it is difficult to be a woman, more difficult to be a well-known woman. Then isn't it even more difficult to be a single well-known woman?
Cao Yanhua Separated from Her Table Tennis Lover
Cao Yanhua was one of the most famous female table tennis players in the 1980s. Her ex-husband is Shi Zhihao, the well-known coach of China's Women's Table Tennis Team. Their marriage was admired by many people, but they divorced in the end.
Cao married Shi in 1986. They went to Germany and had a baby son, then in 1996 they returned to China. Shi became a coach for the Shanghai Table Tennis Team, while Cao started a table tennis club and a school. In the next year, Cai Zhenhua, who was then the coach of the National Table Tennis Team, asked Shi to go to Beijing to join the National Table Tennis Team. Because her business was doing well at the time, Cao did not want to leave Shanghai, and so Shi went to Beijing alone.
In the following years, they lived apart in the two cities, and were unable to meet even once a year because of their respective busy schedules. At last, they chose to divorce secretly. Their parents found out years later. Now, they are not a couple, but they are good friends who had a son together. Their story reveals: only after they divorced did they know that she/he was the best in life.
Zheng Haixia Expects Love, Not Only Height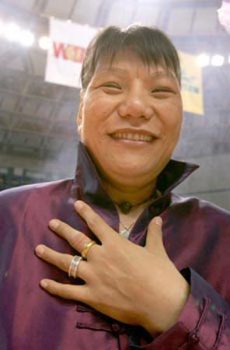 Zheng Haixia was quite popular when she was on the Chinese Women's Basketball Team. Now, she is 40 years old, and still single. In her words, she is waiting for her "Mr. Right."
Because she is 2.06 meters tall, Zheng has refused many men. Zheng's career has been very successful, but she has remained a single woman. Zheng had a boyfriend once who was taller than her, but wore the same size as her in sports clothes. He left Zheng because of her successful career.
Zheng's standard for Mr. Right is he has to be 1.85 meters tall. Now, she is busy with her work. Although she looks forward to love, it has been really difficult for her to find true love.
The Single Mother and US Coach Lang Ping
Lang Ping is an excellent volleyball player who now has a successful career. She is also a single mother of Lang Lang, a girl who has inherited her mother's talent in playing volleyball. In Lang Ping's words, she has three identities: mother, woman and coach.
Lang Ping's ex-husband was Bai Fan. They divorced in the US in 1995. According to American law, they shared the right to raise their daughter. After her divorce, Lang Ping had a short relationship with an American doctor who loved Lang Ping deeply. But Lang Ping returned to China and the relationship ended.
Now, Lang Ping is 48 years old. Her daughter is her entire life. She returned to Beijing for the Beijing Olympics in August this year.
Yu Fen Doesn't Lay Claim to Marriage
Yu Fen was once a well-known coach for the Chinese National Diving Team. She taught Fu Mingxia, Guo Jingjing and other Olympic champions. She returned to the public spotlight again recently because she wanted to return to the national diving team, but Zhou Jihong, the current head coach of the National Diving Team, disagreed.
Yu, who is more than 40 years old, is still single. Yu loved her diving career so much that she sacrificed love.
It is still unknown whether Yu will return or not. But her pursuit of her career has resulted in her not having romance in her life. Will this be a lifelong regret?
He Zhili Wants to Find a Chinese Husband
He Zhili was a world table tennis champion who had married then divorced a Japanese man. Now, she wants to find a Chinese husband.
He married a Japanese man in 1989. Five years later, in 1994, He beaten Deng Yaping and won the gold medal at the Guangdao Asian Sports Meet, and because of her Japanese connection, many Chinese people criticized He.
It was not long that their marriage encountered a crisis. Before the Sydney Olympics in 2000, they divorced. He says she wants to find a Chinese husband to spend the other half of her life with.
Sun Wen Has Many Fans except Mr. Right
Sun Wen is an important player on the China's Women's Football Team. She once won the honor of World Miss Football. Under her leadership, the football team once placed second at the World Cup and the Olympics. She has many fans around the world. Now, 35-year-old Sun, lives a happy life as a single white collar worker.
It is unquestionable that Sun is an extraordinary woman. As a player, she has achieved a lot, but she hasn't found Mr. Right yet. Life isn't always perfect. Maybe, Sun's regret is that she has not found love yet.