Among migrant workers who leave their hometowns to make a living in cities, there is a huge group of migrant women who help to improve the lives of urban residents and change the city landscape by working as urban environment cleaners or waitresses in restaurants. Some of them are inexperienced young maids, some are students who have failed college entrance examinations; and some are rural mothers who have had to leave their children alone at home. All of them flow to cities for a common dream: searching for a better future. However, they suffer from discrimination, payment default; or they are randomly fired by employers, only to find themselves isolated and living on the margins of modern urban cities. How do these female migrant workers feel about their work, lives as well as their emotional world? How many tears and joys do they have and what are their dreams?This reporter at Lanzhou Evening News approached these migrant women with the goal of presenting their daily lives to the public, hoping that citizens will be more tolerant and caring towards this special group to construct a more harmonious society.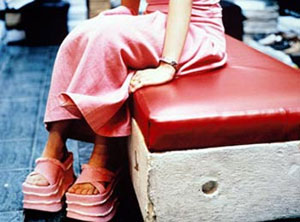 Migrant women live on the margins of modern urban cities.
Wish one: no restrictions for migrant children to study in city schools

Zhang Lan comes from Lintao. Ten years ago, she and her husband migrated to Lanzhou after they married. At that time, her husband worked as a construction worker while she cooked for the workers in the construction site. Although life was hard, the couple was happy. Then next year, they had a daughter named Wen Wen. To support the family, Zhan Lan borrowed 10,000 yuan from a friend and opened a shop selling beer. Later, she started a barbeque restaurant, and life got better year after year. As Wen Wen grew up, Zhang Lan signed her daughter up for a local kindergarten. But since the first day her daughter started school there, Zhang Lan realized that migrant children can not expect to receive the same kind of education as their urban counterparts. At first, many schools refused to accept children like Wen Wen whose parents are migrant workers. Afterwards, she managed to get her daughter into one school by giving gifts to someone at the school. However, the school said it would charge her extra fees amounting to several hundred yuan every year. Zhang Lan told the reporter that she was willing to work hard to allow her child to have the same education as other children do.
Wish two: go home for for several days
Wang Li, from Qingshui County, is now 39 years old. Her husband became disabled because of a traffic accident. In order to earn money for her son to go to school, she came to Lanzhou after the Spring Festival. With the help of a fellow-villager, she found a cleaning job in a property management company. She was paid 400 yuan per month. When she heard that the pay was doubled during the Spring Festival, she agreed to stay and work over the holidays when the company asked her to do so even though she has not seen her son for more than a year. She missed her son so much that she had his photos on the headboard of her bed so she could see him when she went to sleep. The reporter's survey found that some of these migrant women were married, but they have to feed their families, so they left their children behind to work in the city. Meanwhile, they worry about their parents, children and husband all the time. When asked about their wishes, many migrant women said they wanted to go home for several days.
Migrant women are eager to have home belongings in the cities.
Wish three: own a house in the city
Twenty year old Chen Juan is from Zhangye Village. Different from other migrant women, Chen Juan graduated from a technical school. She is also beautiful and smart, so it is not difficult for her to find a job. Having lived in Lanzhou for five years, Chen Juan now works in a company. It seems that she has melted into the city. However, she still has her own pain. She said, "I am 26 this year, but I haven't met her Mr. Right." For the past five years, she has often been haunted by a sense of melancholy when looking at the city's twinkling lights at night. She wonders when she can have her own house, a home belonging to herself in this city. In fact, it is the biggest dream for many migrant women like Chen Juan.
Love lost in the dream of urban life
According to the reporter's survey, around 60 percent of female migrant workers are not married while nearly 40 percent are. As to the latter group, most of their husbands have stayed in the rural areas. In this sense, many migrant women are lonely. They mostly migrate to cities with fellow-villagers. Making good friend is very important to them.
During the interview, the reporter met an 18 year old young mother, Yang Hua, who was from rural Tianshui and nicknamed white-face baby by her friends. When she met the reporter, she could not say anything, but sat there sadly shedding tears. Her fellow-villager Xiao Wang told the reporter that the father of the one-year-old child was a southerner, who said he had to go on a business trip a month ago and had never returned. According to Xiao Wang, that man was 13 years older than young and beautiful Yang Hua and had persistently chased her. Finally, she gave in and lived with him after knowing each other for just two months. Early last year, their child was born, but they did not apply for a marriage license and Yang Hua herself knew little about him.
Yang Hua's parents urged her to get a marriage license, but the man put it off again and again. Then, Yang Hua realized that she had been tricked. However, she still expected her husband to return one day for his lovely daughter.
Yang Hua's experience is one example of the misfortunes that might happen to a migrant woman. The number of pregnant migrant women before marriage has gradually grown. As a result, the beautiful dream of love usually turns into a trap for female migrant workers in their city life.
The beautiful dream of love usually turns into a trap for female migrant workers.
The head of one private hospital told the reporter that more than half of the patients who came in for an abortion are unwed young migrant women. According to the doctors, many female migrant women get pregnant before marriage because they do not know about birth control. Due to financial difficulties and afraid that others might know about their pregnancy, they usually resort to illegal clinics for abortion or buy abortion drugs themselves. This makes them especially vulnerable to gynecological infections.
According to experts, some factors, including temporarily living in the city, narrow span of work and low quality of living and salaries, result in many young migrant women having a limited social circle and not being fulfilled spiritually. The nightmare usually comes when they have high hopes. After being cheated on, some young women either stay silent or take extreme actions to torture themselves. In their pursuit of happiness, they do not know how to protect themselves.
Cheap labor without guarantee
Gao Jie, who is from Ning County in Qing Yang City, is a waitress at a restaurant on Wudu Road. She works from 9 a.m. to 11 p.m. everyday, with only a three-hour break in the afternoon. However, because customers usually stay and drink during her break, she ends up working more than eleven hours everyday. According to the labor law, she should get overtime pay. But she told the reporter that she was never paid for her extra work and thought that other migrant women also work overtime like herself.
Just as Gao Jie said, most migrant women work in the service industry. Many of them sleep less than seven hours each night. Some waitresses work hard from early morning to late night and even longer during holidays. The survey by the reporter shows that most migrant women in the city work more than eight hours a day and only have one or two days off each month.
According to national laws, women are to be given special treatment when they are menstruating. However, the reporter found that this did not happen and 90 percent of the female migrant workers did not know about this law.
Hard work, low payment.
The survey by the reporter reveals that only a tiny fraction of enterprises provide one or two of the five types of social insurances of pension, medical care, maternity, work injury and unemployment for their female migrant workers. Most migrant women were confused by insurance and did not know much about them. Among the ten interviewed migrant women, two of them are insured against accidents. Other migrant women in the food and entertainment industry or employed by private businessman do not have any social insurance. Moreover, only one of the ten migrant women has signed a labor contract.
As a vulnerable group, most of migrant women are afraid to speak out when their rights are infringed upon because there is intense competition in the job market.
More attention needed for migrant women
Migrant women are always marginalized in the city life. Due to a lack of communication and assistance channels, they usually feel isolated and helpless when facing life problems. The government and social organizations should play an active role in encouraging healthy values towards their marriage and behavior. All of society should respect and care for this vulnerable group by giving them more support and attention. Experts suggest that related departments should step up publicity of labor laws and regulations, such as the Labor Law, Security Law of Women's Rights and Interests, and Regulations on Labor Protection for Female Workers, for migrant women.
It is also necessary to establish an implementation and supervisory mechanism for migrant women. A legal supervisory committee headed by the Department of Labor department and working with other departments should be set up to protect migrant women. Existing problems should be dealt with immediately. Measures should be taken to put an end to and prevent cases of rights violations, and special rights should be emphasized in contracts.
(Source: Lanzhou Evening News / Translated by Women of China)