Being in the military has made Tan Jing both pretty and heroic. From her songs, one can sense the many layers of her personality, the unrestraint, openness, emptiness...
After the Doha Asian Games performance, Tan expressed a desire to sing at the 2008 Beijing Olympic Games: "I hope I can sing at the 2008 Beijing Olympic Games, this is my dream."
From a popular singer to a master
Tan Jing, on behalf of the next Asian Games host Guangzhou City, sang The Date of China during the Doha Asian Games closing ceremony on December 15.[xinhuanet.com]


Tan Jing was born in Xinjiang County, Shanxi province. Tan began learning how to play piano at the age of 8 and singing at 11. She said: "I liked to play when I was a child. It did not require dedication. At that time, my mother happened to study at the Chinese Music Institute. She had improved herself and taught others how to sing. Then she started to teach me".

Following her mother's education, Tan showed her talent in singing. This July, she graduated with a Master's Degree from the Music department of the Military Arts Institute, and became a master pop singer.

Moved by the soldiers

As a singer in the General Military choir, Tan often attends local performances. She said: "As a soldier, I am very proud. It is our wish to bring pleasure and warmness to our soldiers."

Tan had an unforgettable experience. Once, she performed somewhere that had a lack of water. She said, "we didn't know that they lacked water, so we didn't try to conserve water, just used what we usually did. Because we were guests, all the officials and soldiers shared water and saved it for us. After knowing that, I cried. They work in difficult conditions, but I can only bring them songs. I can do nothing but perform my best for them."

Tan is very satisfied with the praise of the soldier. "Soldiers are different from common spectators, they are very intense. On the top of East Mountain and Wife are their favorites. Whenever they request them, I will sing them, no matter how many times they have been requested."

Most importantly, Tan is a singer with much love. Besides performing in local areas,, Tan also donates her time to public welfare, anti-drug campaigns and AIDS patients. She donated 300,000 RMB to her hometown to establish "Chunlei school". Named by China Woman and Children's Fund as a "philanthropy star", she acts as an ambassador for "Chunlei Plan". In August 2006, Tan donated 200,000 RMB to establish the "Tan Youth Health Fund" and was the"Love ambassador" of Jiangxi province.

Singing in Vienna Golden Hall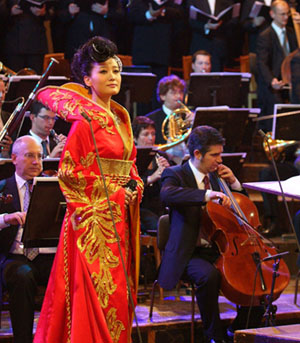 Tan Jing performs in the Vienna Golden Hall on September 12, 2006.[cctv.com]


On September 12, in order to commemorate the 35th anniversary of the establishment of diplomatic relations between China and Austria, and Mozart's 250th birthday, Tan held The Sound of Harmony—Tan Vienna Golden Hall Solo Concert and stirred the spectators. Tan recalled: "I am proud of that experience and will never forget it. Zuying Song was the first Chinese to hold a concert there and I am the first Chinese pop singer to have a solo concert there".

The concert selected 16 songs with different styles. Among these songs were Tan's representative works, ethnic songs from different nations and artistic songs from many countries. The Austrian song "Vienna, the city of my dream" is one of the most famous Austrian songs. More than 2,000 spectators from around the world enthusiastically applauded Tan. She said: "In fact I was a little worried when I saw the expression of some foreign spectators. They could not believe that I could sing the foreign songs so well. I kept holding my breath while I was singing. After I finished, I cried. And many foreigners cried, too. That was a special feeling I will never forget."

Dreaming of singing for the Beijing Olympic Games

After the Hong Kong singer Jacky Cheung sang at the Doha Asian Games Opening Ceremony, at 7 pm December 15, Tan, on behalf of the next Asian Games host Guangzhou, sang The Date of China during the Doha Asian Games closing ceremony.

During the closing ceremony, the city of Guangzhou had ten minutes to introduce itself. As the only singer, Tan said "I am very excited. This is a great honor for me! I am thankful for the Guangzhou Asian Games Committee's choice! I hope I can spread Chinese culture's goodness, peace, friendship and harmoniousness to the people of the world."

After the Doha Asian Games performance, Tan said she was wanted to perform at the 2008 Beijing Olympic Games. "The 2008 Beijing Olympic Games is very important and I want to do something for it, even work as a volunteer. Of course, my wish is to sing on the Olympic stage. This is my big dream".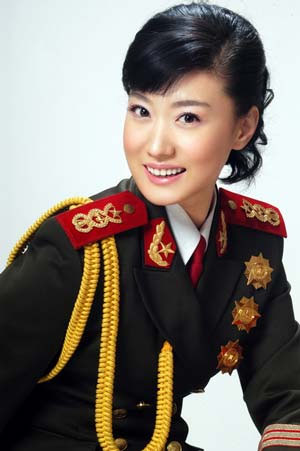 The "Tan Jing Times" are coming soon.[cctv.com]

2006 called the "Tan Year" by inside people
There are few singers in China who have mastered the sounds of popular music, folk music and beautiful sounds, and can interchange among them freely.
Among Chinese singers, Tan is one of the most likely to leave Asia and step onto the international scene. In fact, following Zuying Song, Tan is creating "Tan Jing Times, just like "Guo Lanying Times"," Li Guyi Times", "Peng Liyuan Times" and "Song Zuying Times". The "Tan Jing Times" are coming soon.
Tan's archives:
Birth day: September 1977
Birth Place: Houma City, Shanxi province
Tan: a soloist in the General Military Choir, youth singer and national grade 1 actress. In 1994, she entered the China Music Institute and majored in folk music. In 1998, she entered the General Military Choir. In July, 2006, she graduated from the Military Art Institute with a Master's Degree.
Main Music works
In peaceful times, On the top of East Mountain, Wife, Careful Selection, Red Flowers Like This, Your goddess—Tan, Selections of Tan's movies and television songs.
Prizes
2000 August: First place at the CCTV 9th youth singers television awards.
1998: Second place at the Kazakhstan International Popular Music match.
1997: First place at Sound of Asia Singers Competition.
1996: First place at 1st China Young Singer Competition.
(Source: nanfangdaily.com.cn, cctv.com, tom.com / Translated by Women of China)