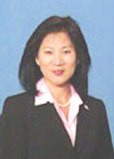 Kris Wang was the first female Chinese-American councilwoman and Vice Mayor in Cupertino, California. Now, she is the first female Mayor of the city. Her inauguration has turned a new page for Asian-Americans.
At her inauguration ceremony, many local politicians, community leaders and ordinary citizens came to witness the emergence of the first Asian American mayor. Kris Wang swore under the American flag and expressed her gratitude to people of the community, colleagues in the City Council, friends and relatives. She sat in the mayor's chair and began to carry out the mayor's duties. After the formal inauguration ceremony, there was a time for ordinary citizens. Many local citizens and people from outside Cupertino lined up in a long queue along the hallway to give their blessings to the new mayor. Strong leaders for Cupertino will guide the community to develop in a harmonious and multi-level way. Local citizens gave fresh flowers to the new mayor.
Kris Wang is a first generation immigrant from Taiwan, China. She was elected to the Cupertino City Council in 2003. She was elected vice mayor a year ago. During an interview, Kris Wang talked about the city council. She said her work gradually went on the right track. During the years, she has adhered to a principle of "being down-to-earth and serving the people." She was promoted from a member of the city council to a vice mayor. Her abilities, intelligence and her practical spirit has won her praise and recognition from voters in the community. Her achievements in the post were obvious to all. She emphasized that she would keep her promises, face new challenges and work to benefit the voters after becoming mayor.
Most citizens in the community regard Kris Wang not only as the pride and glory of all Asian-Americans, but also as a role model for first generation immigrant entering politics. Her election is of great significance. Her success will encourage more Asian-Americans, including the younger generation, to participate in American politics. "Only when Asian-Americans participate, is their success is possible."
People-Orientation
After three years of politics, Kris Wang knows that there is no absolute right or wrong in politics. The key points for a politician are balance and voters' recognition. She said that she was elected by the community's citizens. Her primary concern is for people's well being. Regarding proposals or regulations, citizens are the foremost concern. She tries to balance people of different social status and consider who they are. When she carries out her duties and makes decisions, she is very careful. With great care, she deals with things that relate to people's life.
Kris Wang firmly believes that: "Like other elected officials, I should serve the people and participate in the governmental decision-making process. However, I always remind myself that I will always return to the starting point. Doing things right is the reason I entered politics."
Ability Wins Me Respect
Kris Wang lives in Cupertino, a city with many Chinese-Americans. Other ethic minority groups also account for a considerable percentage of the total population. Kris Wang does not believe there is racial prejudice in Cupertino.
Kris Wang said: "When I was first elected, many people, even Chinese-Americans did not know me." During her three years' work, Kris Wang has made use of every possible opportunity to contact the citizens. She has given up her weekends and holidays to participate in different activities. She tries her best to communicate with the voters. She listens to their advice and suggestions. It is especially true that when she deals with urban construction proposals, she will listen to opinions from all over the city.
As the only Chinese-American councilwoman, it was difficult to win the respect of other councilmen and citizens. Kris Wang believes that one can only rely on his or her own abilities to win others' respect. "People will not respect you for your complexion. They will respect you for your achievements. The key point is to do something good for your voters. Then they will naturally respect and support your work."
(Source: China Women's News, chinapressusa.com, 163.com/translated by Women of China)