Tao Huabi (R3) in her factory.
Tao Huabi, born in a remote village of Meitan County, Guizhou Province, has made Lao Gan Ma, the affectionate, familiar form of address loosely translated as godmother, nationally synonymous with her famous brand of chili sauce.
Born to a poor family, Tao never went to school. At age 20 she married a member of the 206 geological team. Her husband died of illness a few years later, leaving Tao to raise their two children alone. Illiterate and with no specific work skills, as a matter of survival Tao had no other choice but to work as a street vendor.
In 1989, Tao opened a small noodle restaurant. She did a roaring trade, but soon discovered that it was her own, specially formulated chili sauce seasoning that kept customers coming back for more. Many would call in just to buy bags of it to take home. Acting on the advice of friends, Tao decided to set up a chili sauce production line.
Tao closed her restaurant in July, 1996 and opened a small food processing factory with 40 workers. Her premises consisted of two buildings that the Yunguan Villager's Committee, Nanming District, Guiyang City allowed her to use. Tao named her product Lao Gan Ma Chili Sauce. Within six years her factory had grown into a grand private enterprise with assets of 1.3 billion yuan ( US$0.19 billion).
Now the acknowledged empress of a chili sauce Empire, 64-year-old Tao Huabi and her family own more than 90% of the Lao Gan Ma shareholding.
Spice of Life Chili
Tao worked in south China while she was looking after her husband. As the local food was too bland for her taste, she used her home-made chili sauce to pep it up. It was for the forerunner of her Lao Gan Ma chili sauce brand.
After her husband's death, Tao made ends meet by making rice-tofu at night and taking it in a basket the next day to sell around the schools in Longdongbao.
Tao bought the ingredients she needed from a store on Youzha Street 5 km away. She took the first bus when she could, but the driver would often refuse to let her on because her basket took up too much space. More often than not Tao walked the 5 km each way there and back to buy and carry home on her back the ingredients she needed.
In 1989, Tao opened her Shihui Restaurant, specializing in tossed clear cold noodles, near the Guiyang Offical Duty Courtyard in Longdongbao, Nanming District, Guiyang City. "We called it a restaurant, but, other than the back wall, which was part of the the Guiyang Offical Duty Courtyard, it was no more than a roadside stall constructed out of broken bricks, asphalt felt and other debris," regular customer of 20 years ago Mr Han recalled.
Tao's generous helpings at low prices drew students from nearby vocational schools. She let those from poor families run up a tab, which she would later cancel.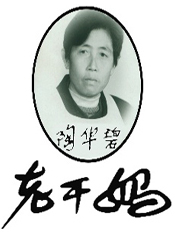 Lao Gan Ma trademark.
In 1994, construction of a ring road in Guiyang began and Longdongbao became a main thoroughfare. Truck drivers were then Tao's staple customers. Tao brought her commercial know-how into play by including her home-made bean-chili sauce, spicy pickles and spices on the menu.
Her truck driver patrons proved invaluable advertising agents, spreading the fame of Longtongbao Lao Gan Ma chili to countless Guiyang households. Many people drove from the inner city to Tao's restaurant in the outer suburbs just to buy her chili sauce.
Tao began by retailing half of her stocks of chili sauce but soon found it difficult to keep up with demand. In December, 1994, she renamed the Shihui restaurant Tao's Distinctive-Flavor Food Store of Nanming, Guiyang, and began trading in chili sauce products as well as serving noodles.
But this adjustment in product structure still failed to meet popular demand for Tao's chili sauce. Nanming Industrial and Commercial Bureau officials tried to persuade Tao to give up her restaurant and open a chili sauce factory, but she refused.
Her reasoning was simple: "If I close my store, where will the students eat?"
One of the Lao Gan Ma products.
"That was her response every time we brought the topic up," then vice director of Longtongbao sub-district office Liao Zhenglin recalled.
In the end even the students she had been taking care of began urging Tao to go in for larger scale production of her sauces. Finally, in August, 1996, Tao relented and borrowed two buildings from the local government to set up her factory.
Tao's workers dreaded the work of cutting up chilis because the vapor made their eyes stream, until Tao showed them the best way. She carried the first delivery of products to groceries, restaurants and canteens on her back. After a week's trial, all her customers wanted to triple their orders.
Bearing hardships has always been a feature of Tao's entrepreneurship. As president of a thriving concern, she carried on living in her accustomed frugal fashion in efforts to develop her company. She preferred to sleep at the factory because, "The sound of production sent me soundly to sleep."
Lao Gan Ma-syle Management
The Lao Gan Ma Company has no board of directors, vice-president or deputy general manager. It instead consists of five departments. Tao's second-in-commands are Xie Bangyin, in charge of business, and Wang Wu, who takes care of administration.
In 1998, with the help of her elder son Li Guishan, Tao formulated the Lao Gan Ma Rules and Regulations. They are, in a nutshell, "Don't be lazy" and "No media interviews."
"Tao had her own style of management," Xiong Fang, a lecturer at Guizhou University and former journalist said. "I interviewed her decades ago when her factory in Longdongbao on the city outskirts had only 200 workers. As there were few places to eat at that time, Tao decided to provide her workers with meals and accommodation. Her present 2,000 workers are the best-treated in Guiyang," Xie said.
All Tao's workers called her godmother, in the sense of adoptive mother, rather than Madam President. She can still remember 60% of her workers' names and some of their birthdays, and acts as chief witness each time a worker gets married.
Tao is also a stickler for traditions such as paying visits to her workers' homes every once in a while and making long-life noodles with two poached eggs for them on their birthdays. She would also personally see them off on business trips and give them boiled eggs to eat on the journey, just like any Chinese mother would for her children.
In 1998, Tao began sending her management-level staff to Guangzhou, Shenzhen, Shanghai and other places to investigate the markets and advanced management practices of the well-known companies there.
Tao's rule not to give media interviews has given the Lao Gan Ma management team an aura of mystery among China's large enterprises. Public comment on the company can hence be summarized as low-profile loyalty and diligence.
Support Local Government
Tao has never taken out a bank loan, other than from those who made a point of offering her one after her business began to flourish.
In 2001 Tao had plans to expand production and build another plant. As most of her current assets were earmarked for raw materials, she was advised to go to the government for financial help. After hearing and approving her case, the Nanming district committee coordinated with the China Construction Bank to make a loan to Tao. They then made an appointment with her to discuss the matter.
When Tao and her accountant stepped out of the elevator at the district committee building her coat snagged on a gash in the elevator door. Noticing the rip in her coat Tao remarked, "If the government can't afford to have their elevator fixed they are obviously not very well off. I don't think I'll borrow from them after all."
Fighting Fakes
As the Lao Gan Ma brand became more well-known fake products began to flood the market.
Li Guishan applied for Lao Gan Ma as a registered trademark as soon as the company was founded, but the Trademark Bureau of the State Administration for Industry and Commerce turned down the application. They said Gan Ma was a common form of address and inappropriate as a trademark, and that it would give counterfeiters a field day. Li compromised by calling it Guizhou Lao Gan Ma chili sauce
Sure enough, before long more than 50 fake Lao Gan Ma products appeared. Tao went all-out to defame and ban these counterfeit goods. She spent several million yuan each year on employing Guizhou's first team of private enterprises specializing in tracking down and exposing fakes throughout the country.
But phony versions of Tao's product nonetheless multiplied. Top of the list of villains was Hunan Lao Gan Mao, whose trademark and logo were almost indistinguishable from Tao's Guizhou Lao Gan Ma.
Tao waged legal battles with Hunan Lao Gan Ma for three years, from the Beijing Second Intermediate People's Court through to Beijing Higher People's Court. The two companies also had several confrontations at the State Trademark Bureau. Tao's case was among the 2003 top ten classic cases of rights protection.
After much wrangling, including a proposed compromise that would allow both Guiyang Lao Gan and Hunan Lao Gan Ma brands to co-exist, which Tao dismissed out-of-hand, Lao Gan Ma won. In May 2003, with the help of Guizhou officials Sun Guoqiang, then mayor of Guiyang City, and Long Yuntu, first-chair negotiating representative of China's proposed WTO membership, Tao's Lao Gan Ma received a registration certificate from the State Trademark Bureau, and the Hunan Lao Gan Ma trademark registration was cancelled.
Unchanged by Success
For a woman who is illiterate and with no background in finance, Tao's is the success story of all time. She has made a five-yuan jar of chili sauce as famous as the top-rated Maotai liquor brand. But Tao, unlike the Maotai manufacturers, refuses to kow-tow to the capitalist market. Neither does she flaunt her wealth. She was speechless with rage when, in 2005 someone read to her the news that Forbes had proclaimed her the Richest in Woman Guizhou. To the woman whose friends, workers and business associate know her as godmother, being distinguished solely for her wealth was to Tao Bi the ultimate insult.
(Source: baike.baidu.com/Translated and edited by womenofchina.cn)