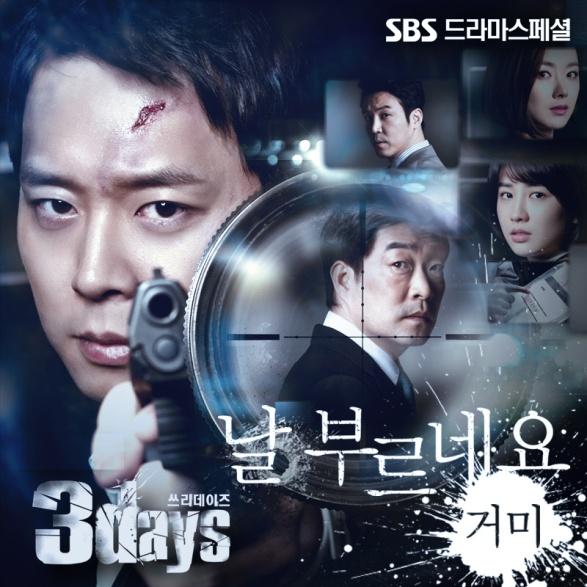 South Korean TV drama '3 Days' sweeps screens in China. [Baidu Image]
Ninty percent of South Korean TV writers are women, mostly housewives, Beijing Metro Reader reported.

"3 Days", an on-going South Korean TV drama, recently set a new record in copyright export price to China, even surpassing its predecessor, the hit drama series "My Love from the Stars," which has swept Chinese audiences off their feet. Many viewers have noticed that both "3 Days" and "My Love from the Stars" were created by female screenwriters, who have been the pillars of the South Korean TV industry.
"South Korean women have lots of time to write, despite having to do most of the housework and take care of their children, and it doesn't matter to them when their work is rejected," said the writer of "My Love from the Stars", Park Ji-eun.
"Now, a great number of South Korean women are well-educated and display subtlety and fineness in feeling, so they are capable of creating large-scale writing tasks," Park added.
"Most fans of South Korean TV series are women, who are fond of love stories and family dramas," explained Chinese screenwriter Mu Yan. "South Korean female writers who usually quit and attend to household affairs after getting married are more familiar with such topics."
In Chinese TV drama, few writers can freely work on the topics that they prefer. Instead, the producers pick the topics. That's why we sometimes describe ourselves as "dancing in chains."
Mu also attributed the recent emergence of South Korean female screenwriters to the different systems of creating TV scripts between China and South Korea. Mu pointed out that the writers in South Korea can sometimes be supported by a specialized team to create a script.
Chinese female TV writers also created a series of popular TV series in recent years, such as the medical drama "Angel Heart," created by Liu Liu, which reflects the high tensions in China between patients and doctors.
Some insiders said the drama theme was another reason why Chinese female TV writers were not as popular as South Korean ones. South Korean TV viewers are seldom presented large-scale historical dramas.
Mu said Chinese TV plays are more close to reality, while South Korean's prefer presenting the best side of life to audiences, so the romantic and exquisite scenarios in South Korean TV plays do not necessarily take place in the real world.
(Source: Beijing Metro Reader/Translated by womenofchina.cn)