In the past 30 years, China has risen to become a sports superpower and from top badminton player Lin Dan to tennis star Li Na, many sports celebrities have become household names in China. But if you ask Chinese people to name one sports star from before 1949, few would be able to come up with any.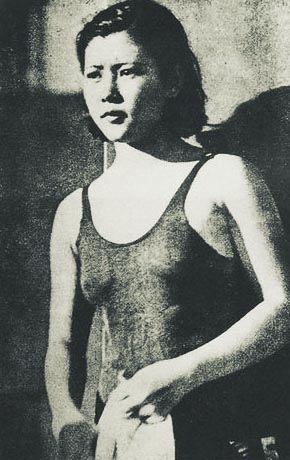 Yang Xiuqiong was an established swimming star in China in the 1930s. [The Young Companion]


The fact of the matter is that there were a few established sports figures at the time, with the most well-known one being Yang Xiuqiong, who rose to fame in the 1930s and was called 'China's Mermaid'.

Early Age

Yang was born in Dongguan, south China's Guangdong Province, in 1918. The East River, upon whose banks her hometown lay, provided many ponds and small natural pools for the local residents to swim in.

Her father, Yang Zhunan, was one of the best swimmers in their neighborhood. He started to teach Yang early, and she soon revealed a talent for swimming. She became known in the neighborhood as a swimming prodigy.

Yang's father encouraged her to practice more. In 1928, he decided to move the family to Hong Kong so that Yang could receive better education and swimming training.

Yang did not fail her father. In October 1930, she won two gold medals for the 50-meter and 100-meter freestyle category at the Hong Kong Swimming Open. The next year, she took part in another swimming contest and won first prize. During the two contests, she also beat many foreign swimmers, earning herself the nickname 'China's Mermaid'.

For the following two years, she trained even harder and never took a single day off.

National Pride

In 1932, she attended the Hong Kong Swimming Open and defended her championship in the freestyle 50-meter and 100-meter categories. Shortly after, she went to Australia to attend an exhibition match at the invitation of an Australian sports association.

When she returned to China, she attended the national games held by the Chinese government on October 10, 1933. The event was supposed to be held in 1931. However, it was delayed twice due to social unrest.

As Yang was already well-known to many people by then, the spectators crowded in to watch her. Among them was Lin Sen, who was then Chairman of the Chinese government, and Soong May-ling, wife of then Military Commission Chairman Chiang Kai-shek.

Not unexpectedly, Yang set national records by winning the 100-meter backstroke, 100-meter freestyle, 200-meter breaststroke and 4 x 50-meter relay.

The next few days saw her fame skyrocket, with her name appearing in the headlines of every newspaper. Lin invited Yang and her family to his house for a dinner and Soong took her under her wing as a foster daughter.

Although Yang's life became crowded with social activities, she never stopped training and always made sure to keep herself in good physical and psychological condition for any swimming event.

In May 1934, Yang attended the Far East Games held in Manila, Philippines. She won the 50-meter and 100-meter freestyle and 100-meter backstroke by beating swimmers from India, the Philippines, Vietnam and Indonesia. Alongside her teammates Liu Guizhen, Chen Huanqiong and Liang Yongxian, Yang claimed another gold medal in the 200-meter relay race.

When Yang returned to China, she was welcomed by the public as a national hero. She received numerous invitations to participate in exhibition swimming events.

The senior officials of the then-Chinese government, such as Chiang Kai-shek and Wang Ching-wei, invited her to meet them as a way of recognizing her contributions to the country.

As Yang neared the peak of her career, she became engaged in more social activities, most of which she found hard to decline because they were organized by senior government officials.

Growing up in Hong Kong, Yang was an open-minded young woman. With all the fame and recognition, she soon became popular in the upper-class circles of Nanjing and Shanghai. The media focused on her every move.

In 1934, she was featured in an influential magazine, The Young Companion, along with Soong May-ling as one of the 10 most outstanding women of the day.
Yang is featured on the front cover of The Young Companion Pictorial [The Young Companion]


In August 1935, she attended a charity swimming event, the proceeds of which were donated to places stricken by natural disasters. During the event, she broke a record held by the Japan team's swimmer in the 100-meter freestyle and set another two national records in the 50-meter freestyle and 100-meter backstroke.

Mermaid's Downfall

In October 1935, Yang met with her first defeat when she was beaten in the 50-meter freestyle at the national games in Shanghai. Following that, Chu Minyi, a government official, consulted a famous fortune teller Wei Qianli about Yang's future and Wei published the prediction in a newspaper, saying, 'Yang is about to run out of good luck and her career is in danger'.

Unfortunately, the prophecy was about to come true. Yang was scheduled to attend the Berlin Olympic Games as the only female swimmer on the China team in August 1936.

The team set out from Shanghai by boat and arrived in Berlin 17 days after. As soon as they arrived, they began competing.

To everyone's dismay, Yang did not make it into the finals, even though she finished with the best time she ever achieved.

The Chinese public was angry with Yang for her failure at the event. A cartoonist drew a comic illustration called The Zero Holder to make fun of Yang. In it, Yang was depicted as a swimmer holding a big zero in her hands while sitting by a swimming pool.

Forced Marriage to a Warlord

Although Yang felt depressed at the public anger and her own failure at the Olympic Games, she was determined to prove herself in the national games which would be held in October 1937.

She had gotten married to Tao Boling, a famous jockey, after the Olympic Games, but told him that she did not want to have children in the next 10 years because she wanted to focus on her career.

She plunged herself into her training, but the war against Japanese aggression broke out in July 1937, making it impossible for the national games to be held on schedule.

Yang and her husband fled first to Guangzhou, and then Shanghai and Hong Kong to escape from the war.

During the war, the then-Chinese government held a national swimming competition in Chongqing, the provisional capital after Nanjing was occupied by the Japanese. Yang and her husband traveled to Chongqing to take part in the event, where she claimed eight gold medals.

Unfortunately, for once Yang's outstanding performance brought her great misfortune. She caught the eye of a local warlord, Fan Shaozeng, who already had 17 wives at the time.

Fan forced Yang to divorce her husband and then issued an announcement in the local newspaper, announcing his marriage to Yang. In the announcement, Fan also depicted Yang as a power hungry gold-digger, thus destroying her reputation.

In order to make Fan lose interest in her, Yang began to take opium after this disastrous marriage. She became skinny and unhealthy, and Fan eventually abandoned her.

With her swimming career and personal life totally destroyed, Yang returned to Hong Kong, from which she immigrated to Vancouver, Canada. She never returned to China.

In October 1982, she died in Vancouver.

(Source: youth.cn/Translated and edited by womenofchina.cn)
Please understand that womenofchina.cn,a non-profit, information-communication website, cannot reach every writer before using articles and images. For copyright issues, please contact us by emailing: website@womenofchina.cn. The articles published and opinions expressed on this website represent the opinions of writers and are not necessarily shared by womenofchina.cn.