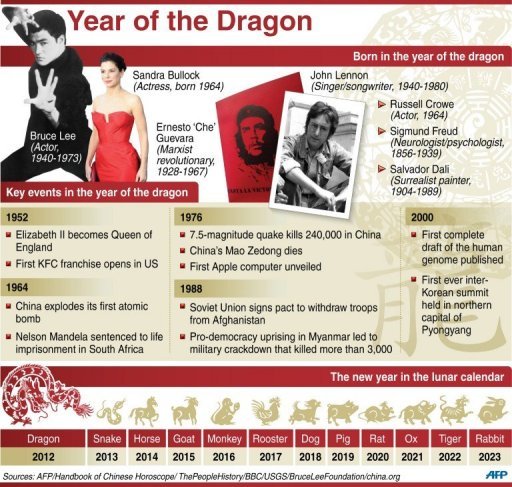 Graphic on the Year of the Dragon, which starts on January 23. [ph.news.yahoo.com]
Chinese people are preparing to say good-bye to the Year of the Rabbit and welcome the Year of the Dragon. It's considered particularly lucky to be born in a Dragon year — so for a lot of parents-to-be, it's going to be an exciting 2012.

The Year of the Dragon is regarded as the most auspicious in the almanac because the dragon is the only mythical creature among the dozen animals that represent each year in the Chinese lunar cycle. Superstitious Chinese believe children born during the Year of the Dragon — the symbol of ancient emperors — will possess courage and wisdom and bring luck to the entire family.

In past dragon years there has been a spike in birth rates in China and other places with predominantly ethnic Chinese populations such as Hong Kong, Taiwan and Singapore, and this year is likely to be no different.

In China, state news agency Xinhua said in December the country was expecting a five percent rise in births, boosting a population that now stands at 1.3 billion despite an official policy of allowing only one child a couple.

Experts predict that the 2012 dragon baby boom might break the millennium baby birth record of 2000 and the Olympic baby record of 2008.

In Beijing

In Beijing, many hospitals report their maternity bed spaces were all booked out before September this year.

"Generally mothers-to-be create a hospital profile for maternity when 12 weeks pregnant, don't they? How come there is no bed space left in August?" Zhang Qian, 26, who has been carrying her child for nine weeks and is due to give birth in August, went to the Peking Union Medical College Hospital to book a bed space on January 11 early in the morning and was told that there was no bed spaces left in August and only several left in September. She was very disappointed.

Dr. Guang Xin from the Obstetrics and Gynaecological Department, Peking University Third Hospital, said both bed spaces and medical staff in the department had been overloaded. There are 300 bed spaces prepared for maternity, but that is still not enough for the thronging mothers-to-be. Some of them even booked bed space when they were trying to get pregnant.

Information from the new hospital district of the Beijing Obstetrics and Gynecology Hospital also shows there is no vacancy before September.

Zhang feels happy and worried. " was very excited when I found out I was pregnant with a dragon baby. My parents and friends said babies born in the year of dragon have good fortune. But the "dragon" baby rush is putting a lot of pressure on the hospitals," she said. Zhang decided to visit other hospitals, hoping there will be a vacancy in August.

The Post-80s generation is the main force of parents-to-be of dragon babies. And most of them are becoming the mothers and fathers for the first time. Data from the Maternal and Child Care Service Centre of Haidian District shows that 15,000 mothers-to-be out of 27,000 who created a file in the hospital by the end of December, 2011 were under age 30.

Expert say a dragon baby boom will be fertile ground for pregnancy and infant supplies market.

Spring Festival is coming. Like many Chinese couples, Wang Jingting and her husband went shopping for what many consider as the most important festival of the year. However, this year her shopping list is very different from the past because their baby is due in four months, and the child will be born in the Year of the Dragon.

"The price of the baby products of almost all the brands has increased. That baby wear was only 150 yuan (US$23.8) last October. Now, it is 180 yuan (US$28.5)," Wang said.

A Beijing-based maternity service company said the monthly pay for a confinement matron was around 500 yuan (US$79.2) in 2001, 2,000 yuan (US$316.8) in 2008, and 4,000 yuan (US$633.6) in 2011. And the years 2007, 2008 and 2011 saw major increases.

A staff member in the center said the years 2007 and 2008 saw the golden pig and Olympic baby booms, and the increase in the monthly pay of the maternity matron in the year 2011 was to prepare for the upcoming dragon baby boom.

Maternity matrons in Beijing who hold a Beijing Maternity Nurse Certificate are paid less than 4,000, and the monthly lack in 2012 will reach 1,000. Some golden maternity matrons will not be available until July this year.

Lu Jiehua, an expert on population from the Department of Sociology, Peking University, explained that the baby boom in the 1980s is boosting the dragon baby boom in 2012 to an extent as the 1980s baby boomers are around 30 and at the summit age for giving birth.

The hardships of absorbing the Olympic baby boomers in kindergartens have not been solved yet and the dragon babies will arrive again in large numbers.

Professor Zhai Zhenwu from the Social and Demographic Department, Renmin University of China, said: "These dragon babies are on the bus during peak hours since their births. They have to wait in queues for their resources for kindergartens, schools, employment, marriage and so on."
Please understand that womenofchina.cn,a non-profit, information-communication website, cannot reach every writer before using articles and images. For copyright issues, please contact us by emailing: website@womenofchina.cn. The articles published and opinions expressed on this website represent the opinions of writers and are not necessarily shared by womenofchina.cn.