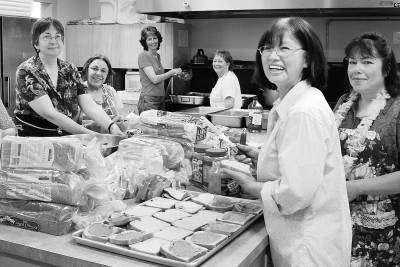 Betty Kwan Chinn has daily provided meals to 500 homeless people for the past 24 years. [zqb.cyol.com]

Betty Kwan Chinn was one of the 13 whom US President Barack Obama presented on August 4 —his 49th birthday – with the 2010 Presidential Citizens Medal, the nation's second highest civilian award. Chinn was honored for showing how one person can touch the lives of hundreds whom the rest of the world simply ignores.

Obama gave at the ceremony an outline of Chinn's background.

"As a child growing up in China, Betty Kwan Chinn's family was the victim of persecution, and she was separated from her parents and forced to live on the streets. As a result of the trauma, she became mute. But when she came to America, Betty Chinn found both her voice and her mission: aiding those without shelter on our own shores. Every day, starting before dawn, she loads up a truck that provides hot meals to the homeless as an expression of gratitude to the nation that welcomed her. The United States honors Betty Kwan Chinn for renewing America's promise by serving those in need."

"I can't believe it," Chinn said, gazing at her gilt medal emblazoned with the presidential seal with her name engraved on the back. "People made me wear a placard declaring myself a child of the devil. Today I'm in the White House holding the medal presented to me by the U.S. President."

On June 20, Chinn gets up at 3:30 a.m. as usual and begins making coffee and cup cakes. Her kitchen has two large ovens that can bake 100 cup cakes each and five commercial coffee machines that can make 100 coffees, all in one go. This equipment enables Chinn to make breakfasts each day for 500 homeless people.

Chinn funds this philanthropic enterprise from her part-time income. At first she told no-one, not even her husband, what she was doing.

"He did ask me from time to time, 'Why are you cooking so much food? Why do we buy so much at the supermarket?'"

Chinn was not so busy 24 years ago looking after a family of four. But as she came to know more and more homeless she began getting up earlier and earlier. At one time she was getting up at 2 a.m. and sleeping only five hours a night.

At 7 a.m. Chinn loads up her catering truck and starts delivering meals to the local people living on the street, under bridges and highways – anywhere she can see them.

Many have already formed a line and are patiently awaiting Chinn's truck. To save time, she makes her deliveries to those she knows in a particular spot that can distribute them to others while she moves on to the next distribution point. But she stays with the mentally ill street people to make sure they eat their meals.

"I really want to take care of these mentally ill people because they need my help. Until I get there their day doesn't begin."

In areas that the local government designates as illegal homeless rallying spots, street people skulk in the bushes as they wait for Chinn to walk the half a mile carrying cakes and a heavy coffee pot.

Chinn has a bad leg that plays her up sometimes. Jesse, aged 41, who has slept in the mountain wild, on street corners, and in a tent in the woods, usually comes to help her. He is puzzled about what motivates Chinn.