Recently a song that has no lyrics became very popular on the Internet. Hundreds of thousands of netizens watched and forwarded the video clip on the Internet.
The song, named Uneasy, is a fast changing set of vocally recited music scores featuring percussion instruments of the Peking Opera and the sounds of different roles such as an old woman, an old man and a cheerful young woman. It is played on Chinese traditional instruments such as a Sheng (a reed pipe wind instrument), the flute and Yangqin.
The song is described by netizens as a Divine Song because of its unrecognizable lyrics and performer's exaggerated facial movements when singing. Many have also recorded their imitation of the song and put it on the website. Famous Chinese singer Faye Wong also expressed that the song evoked her desire for singing it.
A Rising Folk Singer
The song is performed by folk song singer Gong Linna who is now living in Germany.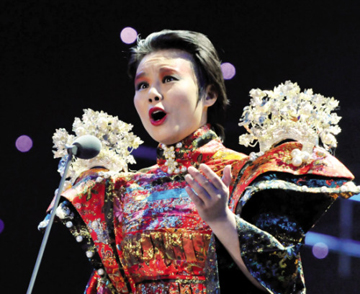 Gong Linna singing Uneasy dressed in a flamboyant costume during Hunan TV's new year concert [baike.baidu.com]


Gong, born in 1975, is a native of Guiyang of Guizhou Province. A talented singer since very young, she began to perform on the stage from the age of 5 and won prizes in nation-wide singing contests.

From 1992 to 1999 she studied folk music in China Conservatory's attached middle school and college. She completed her study as the top student and held her first solo concert in Beijing in the same year.

She won the silver medal in the 9th National Young Singers Contest, a competition held once every two years to spot talented new singing stars in the country who if they win will be guaranteed a promising future.

In that and the following years, she held four concerts in Hong Kong, went on CCTV's top ten list and became the audience's favorite singer. In 2001 her song There is Only One Motherland won a gold medal in a national singing competition. In 2002 she published her album Here Comes the Peacock.

When Gong's singing career seemed to be on the rise, she found presenting on TV and winning contests had nothing to do with her artistic dream. She said in a poem: "I feel at a loss when busy performing on mono stages, but my inquisitive mind is still expecting more."

Gong's anticipation was fulfilled when she met Robert Zollitsch, a musical director who later became her husband, in 2002.

Free Singing Experience

Robert is a German musician who learnt to play the Bavarian zither at 10. He learnt composing in the Berlin Musical Academy and came to China to study the Chinese seven-stringed zither at the Shanghai Conservatory of Music in 1993. During his time in China, he and some Chinese folk instrument players set up a band to play Chinese folk music and recorded one album. He also recorded an album of Tibetan folk songs which was released in Britain.

In 2002 Robert met Gong Linna and expressed to her his dream of making Chinese music and his intention to set up a band consisting of both Chinese and German. This was the beginning of their musical band Five Elements, derived from the concept of 'five elements' used in ancient Chinese cosmology.

Consisting of two Chinese and two German, the band blends Chinese folk music with modern Bavarian musical elements to form world music with Chinese characteristics. It is the first musical band of this kind in China. They hope to let the world better understand Chinese folk music.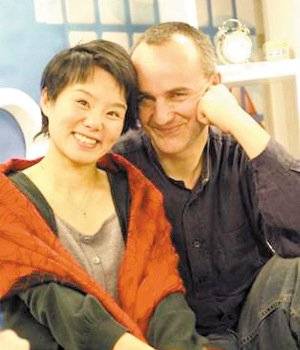 Gong and her husband [sl220.cn]


Gong said she, Robert and Five Elements have a common goal in music and her cooperation with them makes her more liberal and unconfined in her performance. "I could finally sing free as air, in forests, on mountain tops and on whatever stages people would like to hear me," "I feel real happiness and I feel my feet on the road. I feel the rising power once I am in music," Gong said, recalling the feeling in her poem.

Gong and Five Elements made a musical tour in Germany in 2002 and attended numerous musical festivals in China and Europe in the following years including WOMEX, the world's largest musical expo.

From 2008 to 2010, Gong Linna was very busy. She had eight solo concerts on average each year. The concerts took place around the globe including France, Spain, Holland, Finland and Belgium.

Her song Uneasy won the Best Singing Award of European World Music Awards in 2009. It became a hit on December 1, 2010 during a Grammy Award presentation and remained as the Grammy's best music for three weeks.

Gong sang Uneasy in Hunan Satellite TV's new year concert in a Peking Opera style costume, causing a sensation amongst the audience and achieving even greater popularity for the song.

Gong's singing has attracted lots of imitators, some of whom have become famous themselves.

For Gong Linna, her next step is to find an agent company.

(Source: baike.baidu.com/ Translated by womenofchina.cn)