The recently deceased Wang Bei found fame in 2005 as a Super Girl contestant. She died on Nov. 15 at Zhong'ao Cosmetic Surgery Hospital in Wuhan, Hubei Province, while undergoing a facial bone-grinding procedure. She was 24. Wuhan Public Security Bureau has since confirmed that the hospital is liable for medical malpractice.
The Ministry of Health has ordered an investigation into the death of an aspiring pop singer during a cosmetic surgery procedure, the Beijing Times reports.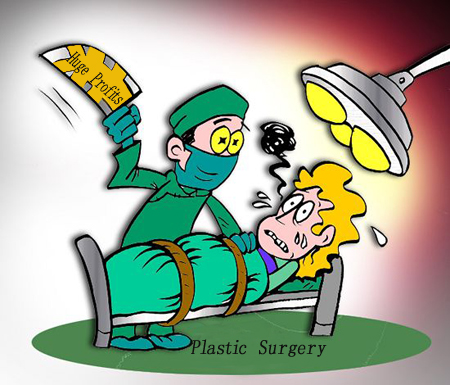 [Zhang Xianda/news.xinmin.cn]
"The Ministry of Health has tasked the Hubei health department with investigating and verifying the situation ... with instructions to make a public announcement of the results without delay," the ministry said in a statement last Saturday.
The hospital has temporarily suspended its intake of new patients.
Wang Bei graduated from Wuhan Conservatory of Music and was, along with Chris Lee and Jane Zhang, among the Top 20 Super Girls singing competition finalists of 2005.
Wang later won the praise of Taiwan singer, composer and music producer Sky Wu, one of the judges in the Dream China singing competition in which she appeared. In 2009, Wang became a Super Girl again in Wuhan, and performed last summer in a Qingdao bar. Her most recent regular performance date was in Jinan.
Surgical Oversight
The news of Wang's death first appeared on November 23 on netizen DukeKO's micro-blog. He wrote: "On the morning of November 15, Wang Bei and her mother entered Wuhan Zhong'ao Cosmetic Surgery Hospital for respective plastic surgeries. The accident in which blood leaked into her trachea occurred during Wang's facial bone-grinding surgery. She died after transferring to another hospital for 90 minutes' emergency treatment."
DukeKO also stated that the Zhong'ao Cosmetic Surgery Hospital had paid bribes to suppress reports of the accident.
An error on the part of the surgeon at around 11am on 23 November led to a bleed from Wang's lower jaw into her trachea. Wang died of asphyxiation, according to on-line reports. As she was under general anesthetic, by the time surgeon realized what had happened she had already gone into shock. Wang was immediately, and discreetly, transferred to the Wuhan 161 Hospital for emergency rescue treatment, but arrived too late. The 161 Hospital announced Wang Bei's death that afternoon. The Zhong'ao Cosmetic Surgery Hospital did not tell Wang's mother of her daughter's death. She passed out on the spot when she learned of the tragedy 24 hours later through official channels.
A doctor on the rescue team, who asked to remain anonymous, said that Wang Bei was dead on arrival at the 161 Hospital.
"She had already undergone facial surgeries on her eyes, nose and lower jaw in addition to the bone-grinding procedure mentioned on the Internet. Respiratory tract obstructions are a risk during simultaneous surgery on the nasal cavity and lower jaw, which is why such cases need careful observation," the doctor said, adding, "Wang didn't die during surgery but in the observation period afterwards. The surgery called for tight bandaging over the patient's chin and mouth. As the nasal surgery impeded nasal breathing, assisted respiration was necessary. It appears that Zhong'ao Cosmetic Surgery Hospital was deficient in its observation procedure after surgery, and is hence responsible for Wang's death."
This doctor also confirmed that Wang is by no means the first in Wuhan to have died during a plastic surgery procedure.
Netizens report that the name of surgeon who performed the operation is Wang Liangming, and that he has no formal qualifications. The hospital website indeed mentions an expert surgeon called Wang Liangming.
He is easy to track down on-line. Wang Liangming graduated from the Second Military Medical University, served as president of Guangzhou Yuandong Cosmetic Surgery Hospital and created Wuhan's first man-made beauty Cao Dandan, according to the ysk.39.net website.
The website also reports that he was in the Prosthesis and Breast Implant Department at the Guangzhou Yuandong Cosmetic Surgery Hospital.
Wang has a bad reputation in the cosmetic surgery industry, according to an anonymous surgeon from Shanghai. "He moved to Wuhan from Guangzhou after certain medical malpractices that caused deaths," he said.
The Zhong'ao Cosmetic Surgery Hospital billboard is eye-catching and the hospital had planned a 2010 Beauty Action project this year. The hospital website, which is blocked at the moment, presents itself as one of the ten national best cosmetic surgery hospitals, and as number one in Central China's medical cosmetology industry. It also claims to be a legal medical institution approved by the Heath Administrative Department and Jiang'an District Heath Bureau of Wuhan.
A Wuhan Jiang'an District Health Bureau official insists that the hospital is legal, but the surgeon Wang Liangming has not been registered or approved by the local health administrative departments since moving to Wuhan from Guangzhou – an omission that violates government regulations.
Fellow of the Chinese Academy of Engineering and respected cosmetic surgery expert Zhang Disheng points out that only National-approved Synthesis Third-class hospitals are qualified to carry out the mandibular angle plasty operation, which makes a dramatic change to the appearance. The procedure involves large scale incisions on the face which run-of-the-mill cosmetic surgery hospitals do not possess the expertise to carry out.
Wang Liangming recently denied the accusations of malpractice in Guangzhou, saying that the death occurred two hours after the surgery. "The relative government department will judge whether it is a malpractice or not. But my operation was successful. We later realized that the patient had heart problems," Wang said.
On November 28, Hubei Provincial Heath Ministry and Wuhan Health Bureau sent an investigation team of medical experts and law enforcement officials to the hospital. Hubei Provincial Heath Ministry confirmed that they would make a public announcement of their findings in due course.
Booming Cosmetic Surgery Industry
The cosmetic surgery industry has developed rapidly along with the improvements to living standards that Reform and Opening up has brought. Private cosmetic surgery institutions have broken the monopoly of state-run plastic surgery hospitals and provided more consumer choice.
"We should learn from Wang Bei's tragic accident," a surgeon at a well-known cosmetic surgery hospital in Hubei Province said. "Problems such as an imbalance in skills, values and management concepts are common in the industry, especially in private-owned cosmetic surgery institutions."
The industry is a consumer hotspot close behind those of real estate, cars, tourism and electronic IT products. More than three million people went under the knife in 2009, according to incomplete statistics from the China Medical Treatment Orthopaedics and Beauty Association. But the amount of qualified institutions in China falls far short of the huge market demand, and inefficient government supervision has given rise to an alarming number of cosmetic surgery mishaps.
Certain cosmetic surgery departments have been contracted out to individuals as private-owned institutions. Other private institutions regard patients purely as a source of revenue.
Moreover, exaggerated claims in advertisements for cosmetic surgery clinics are commonplace and broadcasted testimonials are often false.
More importantly, unlike in other countries where expert groups in relevant areas approve surgeons' qualifications, China has no authoritative assessment mechanism for verifying the credentials of cosmetic surgeons. Health administrative departments in China undertake that function, but the medical society has no supervisory power. This absence of approval by an expert group enables the more mercenary element to challenge the authority and market order and bring discredit to the whole industry.
China hence needs a more effective law in addition to the present Ministry of Health Medical Aesthetic Service Regulations and Classification Management Directory of Medical Aesthetic Projects, which have no constraining force to regulate the market.
There should also be a third party medical society that verifies the qualifications of cosmetic industry medics and ensures that only those with the appropriate qualifications and tried and tested skills are at large in the industry.
There should in addition be regulations that limit the extravagant claims on advertisements for cosmetic surgery clinics.
Reflections on Beauty Economy
Although the exact cause of Wang's death is unclear, the accident inevitably prompts reflections and concerns about the cosmetic surgery industry. Most netizens have expressed sympathy and sorrow at Wang's death. Others question her motives for having such surgery. "She was already beautiful. Why did she take that risk?" one netizen asked.
The fact is that in spite of the oft-expressed sentiment "never judge by appearances" the beauty economy has experienced steady and rapid growth. Beauty advertisements appear on street billboards and on all media, and brokerage firms make huge profits through multifarious beauty contests. A sexy broadcaster can boost the ratings even of weather reports, and young beauty queens are a feature of football matches and auto shows. Even in the literary sphere, books on how to attain and maintain beauty are best sellers. Today's commodity economy is hence also the beauty economy.
(Source: ent.sdnews.com.cn/Translated and edited by womenofchina.cn)