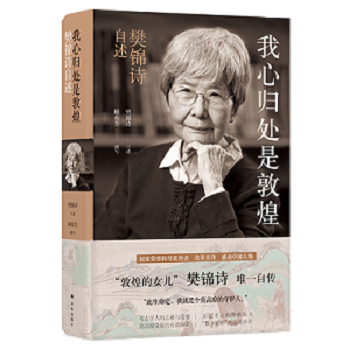 My Heart Belongs to Dunhuang: Fan Jinshi's Self-narration [Youth.cn]
Narrator: Fan Jinshi
Writer: Gu Chunfang
Publishing House: Yilin Publishing House
Publishing Time: October 2019
Fan Jinshi, 81, currently acts as the honorary president of Dunhuang Academy. An effective protector of cultural relics in China, she is dedicated to the archaeological study of grottoes.
Fan, born in Hangzhou, East China's Zhejiang Province, in 1937 and a graduate of Peking University, has spent most of her life in Dunhuang, northwest China's Gansu Province, protecting the Dunhuang Grottoes and their cultural heritage. People call her "daughter of Dunhuang" for her dedication and contributions.
The book, with a first-person, self-narration style, tells many of Fan's untold stories describing her work and career development, the life difficulties she has met, her emotions, love and family, her observations, research and analysis of Dunhuang's history, culture and beauty. It also presents the details of her efforts in applying for Dunhuang's inscription as a UNESCO World Heritage site and the building of "digital Dunhuang."
Gu Chunfang, professor with the School of Arts of Peking University, is one of Fan's best friends. She sorted out Fan's oral account and wrote down the narration. Her main research fields are art, drama, film and drama aesthetics.
(Source: Youth.cn/Translated and edited by Women of China)