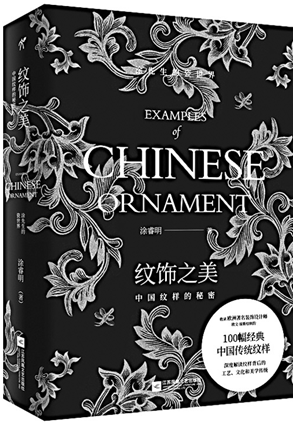 Examples of Chinese Ornament
Author: Tu Ruiming
Publishing House: Jiangsu Phoenix Literature & Art Publishing House [Dazhong Daily]
Tu Ruiming, a famous porcelain expert from Jingdezhen, a porcelain-making center in East China's Jiangxi Province, recently published a book, Examples of Chinese Ornaments.
The book has selected 100 classical pieces of traditional Chinese ornament collected by Owen Jones, a versatile British architect and designer (1809-1874), and chosen over 60 corresponding photos in a drive to uncover the techniques, culture and aesthetic traditions behind the production of ornament.
At the very beginning, Jones had many misunderstandings of Chinese ornament culture and even claimed in his book The Grammar of Ornament that Chinese people had no idea of artistic imagination and were incapable of producing traditional ornament. Until he personally saw the beauty of Chinese porcelain and enamelware products transported to Europe in the 19th century, he changed his idea.
He developed an interpretation of traditional Chinese ornament involving theories, patterns and arrangement of colors in his Examples of Chinese Ornament, which was composed of 100 illustrations and dozens of captions. However, there are many misinterpretations in his work since he didn't posse sufficient knowledge to understand the relevant culture and techniques.
For instance, Jones mistook phoenixes in Chinese ornament for dragons since he failed to grasp what they signify in China. Moreover, it is no wonder that he misread the Chinese character of longevity into a labyrinthine pattern as he didn't know or understand the word's meaning in the Chinese language.
Different from Jones, Tu intends to make a reassessment of Chinese cultural elements and rediscover Chinese culture as well as aesthetics from the perspective of Chinese people.
His book consists of two parts — the beauty of ornament and the art of its techniques. The first part mainly speaks of the definitions and contents of ornaments, while the other focuses on relevant procedures, techniques and actual effects.
In addition, Tu aims to better appreciate the richness and beauty of Chinese culture expressed in ancient times through ornament and make full use of his abundant knowledge and sound skills related to porcelain culture in a bid to offset Jones' shortcomings.
Therefore, Tu selected over 60 photos featuring Chinese porcelain and enamelware products in a drive to better corroborate the contents and procedures of making ornament discussed by Jones.
To sum up, the book can be seen as a dialogue between Tu and Owen Jones and as an in-depth interpretation as well as re-creation of the Examples of Chinese Ornament.
(Women of China)