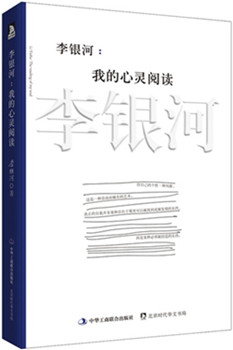 Chinese sociologist and sexologist Li Yinhe's new book titled Li Yinhe: My Spiritual Reading [dangdang.com]
Chinese sociologist and sexologist Li Yinhe's new book, titled Li Yinhe: My Spiritual Reading, debuted at Peking University in Beijing on April 4, 2014.
Looking back upon her history of reading, Li said Ninety-Three by French writer Victor Hugo (1802-1885) and Nineteen Eighty-Four by English writer George Orwell (1903-1950) had inspired her a lot. She even completed a novelette called Two Thousand and Eighty-Four under the influence of Orwell.
Li Yinhe: My Spiritual Reading, which features her notes on world classic novels, movies and songs, is Li's second book that presents her thoughts about life and society, following the book Li Yinhe: My Philosophy of Life, which was published in July 2013.
In each article of the new book, Li integrates her outlook on life, values and sexuality, which helps readers to understand her love story and life, offering answers to questions such as why she never had children with her late husband, the writer Wang Xiaobo (1952-1997), and what she thinks of marital infidelity and human sexuality.
"True love doesn't depend on realistic situations," said Li who also cited her love story with her late husband as an example. "At the time, I had just graduated from university and published articles in a Beijing-based, nation-wide, comprehensive newspaper, Guangming Daily, thus gaining some reputation, while Wang was a man of no reputation."
When she was asked at the book launch what she thought of Chinese actor Wen Zhang's extramarital affair with younger actress Yao Di, Li said Wen couldn't simply be compared to a real-life Chen Shimei, a Chinese opera character and a byword in China for a heartless and unfaithful man.
"Both Wen and his actress wife, Ma Yili, make their own money, and thus Ma doesn't depend on her husband. As we can see, she didn't make extreme responses, but calmly responded, 'Being in love is easy; being married is not. It is to be cherished,'" said Li.
"In today's society, one can go on living without the other part. I think, people should not be overcritical. If Wen loves Yao more, he has the right to love," she added.
Li, who earned a doctoral degree in sociology from the University of Pittsburgh in the United States of America in 1988, was the first female sexologist to introduce western theories on the subject to China, and to promote studies on gay male and female sexuality.
In 1999, she was honored as one of Asia Week magazine's 50 Most Influential People in China list.
As an activist for LGBT (Lesbian, Gay, Bisexual, Transgender) rights in China, Li raised the issue of same-sex marriage in 2003, 2005 and 2006 at the Chinese People's Political Consultative Conference (CPPCC).
Her main academic interests have been sexual norms, homosexuality, diverse sexual behavior - including sadomasochism, and women's studies.
(Source: epaper.jinghua.cn and dangdang.com/Translated and edited by Women of China)