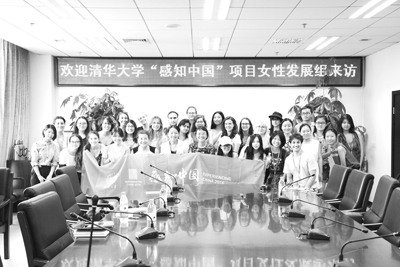 Students from China and abroad pose for a picture together in the China Women's University after a symposium on women's development. [China Women's News]
Tsinghua University (THU), one of the most prestigious educational institutions in China, launched a project about women's development this summer vacation, in a bid to exchange ideas in areas of policy, education, environment and culture with foreign students.
More than 150 overseas students from around 30 countries across the world, alongside a total of 25 Chinese students took part in the project.
According to organizers, the scheme covers several parts including teaching instruction, discussion and practice and other aspects.
In terms of the teaching instruction, the doctoral supervisor of THU delivered a lecture to introduce Confucian ethics, bioethics, gender study and feminist research methodology. Attendees were all active in asking questions about the topics, organizers said.
In addition, mental health was also a heated issue in the project. A female American stated that mental disease had a close connection with gender. As females have to live in a male-dominated society, they have suffered from serious psychological pressure due to their unequal social status in comparison with males, the American student added.
Another foreign student from the University of London revealed that all governments should pay attention to allocating mental health resources while pushing for more efforts to relive the financial burden of impoverished families worldwide.
Meanwhile, the foreign students also visited the China Women's University (CWU). Shao Juan, deputy-curator of the library of the CWU, made a general introduction of the school's history, development and management.
After visiting the CWU, all participants said that they have had a new understanding of the university.
(Source: China Women's News/Translated and edited by Women of China)