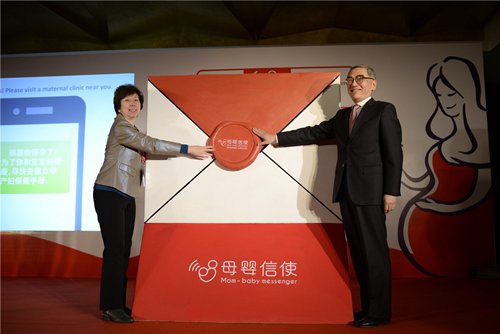 Jin Xi (L), vice director of China's National Center for Women and Children's Health, and Wu Renwei, president of JNJ China, unveil the plaque for the Mom-Baby Messenger Program in Beijing on March 8, 2015. [Women of China/Zhang Yuan]
A Chinese maternal- and child-health agency and global company Johnson & Johnson (JNJ) jointly launched in Beijing on March 8, 2015 a text message program providing new and expectant mothers with health-related information.
The National Center for Women and Children's Health (ChinaWCH) and JNJ aim to improve healthcare for pregnant women and newborns in rural areas and to and speed up China's accomplishment of the maternal and baby health goals laid out in the United Nations Millennium Development Goals.
The three-year program will provide free and customized text messages on maternal and baby health for pregnant women and families with newborns in rural areas in 63 counties in seven provinces, including Henan, Hubei, Hunan, Shanxi, Hebei and Gansu as well as in Guangxi Zhuang Autonomous Region.
These rural areas are marked with a deficiency in medical resources and services relating to maternal and baby health.
As the largest of its kind in mainland China, the program provides subscribers with two text messages each week from the day they are pregnant to the first birthday of their child. The text messages are reminders about nutrition, disease prevention and prenatal care.
The content will be produced by BabyCenter, L.L.C., a subsidiary of JNJ. Colleen Hancock, a senior executive of BabyCenter, said that the center is an important partner of the Mom-Baby Messenger Program.
In South Africa and India, the center provides customized information for 800,000 pregnant women and their families, says Hancock.
The text messages are reviewed and revised by experts of the ChinaWCH. In addition, the ChinaWCH drafts different messages based on different circumstances or factors. For example, in areas where thalassemia is prevalent, pregnant women will receive more information on this blood disorder.
It is reported that China has reduced the mortality rate of children below the age of 5 and has met the requirement of the UN Millennium Development Goals in this regard while also realizing its goal of reducing its maternal mortality rate.
There is a gap in maternal and infant mortality rates between urban and rural areas. China is still one of the nations with the highest newborn mortality rate.
As China has over 1.2 billion mobile users, the program is expected to play a key role in tackling this issue.
"I am a bit nervous because I still feel unprepared to be a mother," said Zhang Yajun, a 26-year-old woman in late pregnancy from Laishui County, in north China's Hebei Province.
"If the text messages on pregnancy and baby feeding are sent to expectant mothers like me, my whole family doesn't have to bother gathering information that we don't know to be right or wrong," Zhang said.
Yang Qi, senior official of the ChinaWCH, said, "We believe cellphones are a powerful tool for spreading health information, and they help improve health education in less-developed areas."
"Our survey in rural areas also indicates that most pregnant women polled have cellphones and that text messages are quite popular," Yang said.
The Mom-Baby Messenger Program is an initiative of JNJ to promote maternal and newborn health through new mobile technology. As of today, JNJ has launched the program in Bangladesh, India, South Africa, Nigeria, China and Mexico in its commitment to take concrete measures in response to UN Secretary General Ban Ki-moon's call for "every woman, every child."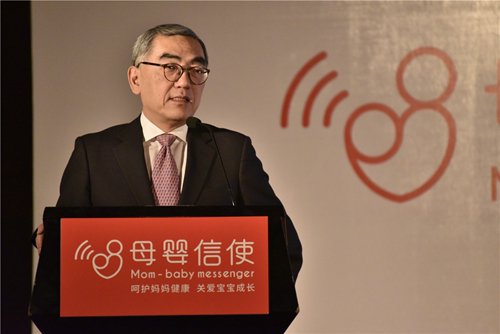 Wu Renwei, president of JNJ China, delivers a speech at the launch of the Mom-Baby Messenger Program in Beijing on March 8, 2015. [Women of China/Zhang Yuan]
Jin Xi, vice director of China's National Center for Women and Children's Health, delivers a speech at the launch of the Mom-Baby Messenger Program in Beijing on March 8, 2015. [Women of China/Zhang Yuan]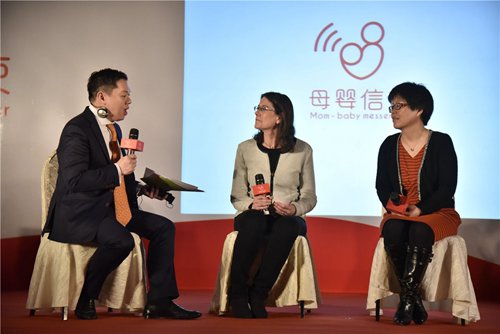 Experts share ideas on the Mom-Baby Messenger Program in Beijing on March 8, 2015. [Women of China/Zhang Yuan]