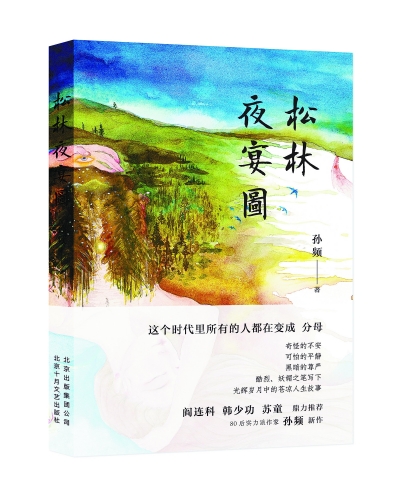 The cover The Picture of Banquet in Pine Forest. [bjd.com.cn]
Chinese author Sun Pin recently gave a talk at a bookstore in Beijing and shared her experiences of changing writing styles, as can be seen in her latest work, The Picture of Banquet in Pine Forest.
Speaking at Beijing October Coffee Bookstore, Sun explained that her new book consists of three novellas: The Picture of Banquet in Pine Forest, Glorious Time and Night of the Monsters.
The title story chronicles the fates of different artists from two generations; Glorious Time is a tale of irony in which people seek their fate with sorrow and heartaches, whilst Night of the Monsters is a depiction of the "mutually affected fates and damaged lives", said Sun.
Sun, 35, graduated from Lanzhou University, northwest China's Gansu Province, and started to write novels a decade ago. She has produced several collections and her latest book is published by Beijing October Literature and Art Press. The book was recommended by renown Chinese writers such as Yan Lianke, Han Shaogong and Su Tong.
"When I wrote it, I kept my passionate and compassionate style as usual though, I began to pay more attention to the individuals' struggles and compromises," said Sun.
"It took me half a year to conceive, and another six months to write. I just wanted to make a little change and try something new," she added.
Sun also said a special major called creative writing she specialized in at Renmin University of China had sparked her inspiration to push herself in a new direction.
At the talk, three other writers and commentators expressed their opinions about the book.
"It is a book written from a female's point of view, but has a wider perspective. Sun has been paying close attention to women's self-awareness. To look more deeply into the existence of human beings from a women's perspective is an important way of writing," said Liang Hong.
According to Yang Qingxiang, Sun's novels have changed a lot, mainly in their logic in terms of action. "In her Banquet Map of Pine Forest and Glorious Time, Sun attempted to analyze the sociology and political economy factors behind people's desires."
Speaking of his views on whether it is constructive for a writer to change, Zhang Chu said: "By trying a new style of writing, Sun's novels have covered a wider range of topics, seeking to look at the world in wider perspective . She is trying to write in a more free way."
Meanwhile, Zhang compared Sun to Eileen Chang, a famous Chinese writer whose works frequently deal with the tensions between men and women in love.
To this, Sun responded: "I was deeply influenced by Chang during the early stages of my writing, because she is one of my favorites. But spiritually, I am different from her. She has inner peace whilst I feel unsettled inside."
(Source: Chinanews.com/Translated and edited by Women of China)