Cai Gao, a woman in her 70s from central China's Hunan Province, has spent the past few decades creating picture books for children. [Beijing Daily]
A woman in her 70s recently held her first personal exhibition on children's picture books in Changsha, capital of central China's Hunan Province, after spending the past several decades making more than 40 of her own works.
Cai Gao said that nearly 200,000 visitors from different parts of the country attended her exhibition with the highest number of people arriving there reaching around 9,000 in one day.
According to Cai, she started learning how to make picture books in 1986. At that time, she served as an editor for Hunan Children's Publishing House, where she was given one month's leave annually to pursue her creative process. Cai stated, "It is the best career for me as I can have time to do something interesting which I enjoy."
Over the years, Cai revealed that she always insisted on her own unique style of producing picture books instead of following the steps of other people.
Due to her special creative style, the woman won an award at the 14th Bratislava International Children's Book Fair in 1993, which was a huge breakthrough for her cartoon books.
Cai maintained that she did not receive an education in any school of fine arts and all of her creative inspiration comes from her own life. "I didn't have a pencil when I was a young child, so I had to use a piece of charcoal to draw pictures," the woman recalled.
After graduating from a normal school, Cai became a rural teacher in the local county of Zhuzhou at the age of 19. In her spare time, she had to do some heavy manual work including watering the garden, feeding the pigs and helping construct the school building. However, all of these experiences helped her following years' creations.
Although having been producing picture books for many years, the woman said that she did not make much money from it and even did not know how much money she could make from it. Despite this, she still had a great passion for pursuing her chosen career.
Speaking of creating picture books, the elderly woman maintained that she hoped that more people would join her to produce works for young children in the future. In addition, she has strongly criticized people who put money first when producing books.
Cai said that she was lucky to follow her own heart and be able to spend most of her time making picture books from a young age.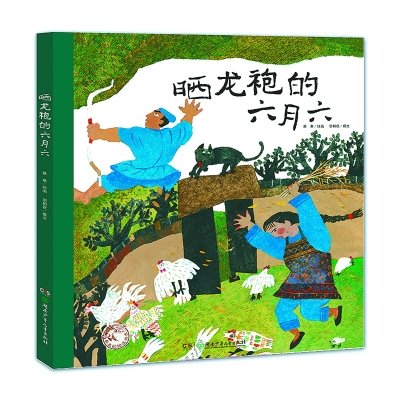 Cover of Cai Gao's picture book. [Beijing Daily]
(Source: Beijing Daily/Translated and edited by Women of China)