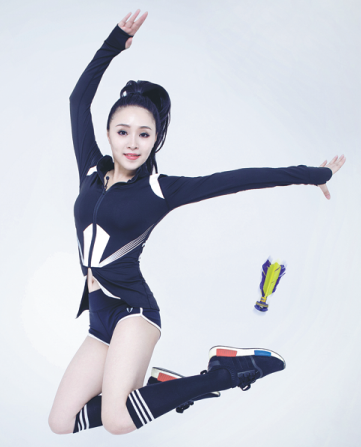 Deng Dan juggles a shuttlecock. [China Daily]
Slim, nimble and 1.6 meters tall, Deng Dan, the "queen of shuttlecock", can juggle a shuttlecock with her feet in many artistic ways.
The winner of numerous national titles in artistic shuttlecock competitions, Deng, 32, showcased her dazzling techniques in front of English soccer star David Beckham on a television show in 2013, teaching him how to juggle.
She is now leading a campaign to promote this traditional sport at home and abroad.
"It is a great game for people of all ages," she said. "It can help exercise the muscles and joints we seldom use in our daily life."
Shuttlecock is an ancient game, having been played in China since the Han Dynasty (206 BC-220 AD). It is believed to have evolved from cuju, a game similar to soccer.
In English, both the sport and the object that is kicked — made of goose, duck or chicken feathers attached to a rubber or plastic disc — are referred to as shuttlecock.
As little space is required, it can be practiced almost anywhere and at anytime, on your own or in a group.
There are two kinds of shuttlecock sport. One is played on a court similar to badminton and volleyball, using feet and other parts of the body but not hands. The other type is played artistically to show off kicking skills.
Born in southwestern China's Chongqing, Deng began to practice shuttlecock at age 8.
"The basic skill training was very boring," she said. "I needed to kick the shuttlecock over 10,000 times a day with both feet."
She started to participate in national competitions two years later and went on to become one of the top Chinese players.
In 2011, she was one of the experts invited to draft China's rules for artistic shuttlecock.
To promote the sport among the young, Deng wrote a book on how to play shuttlecock in 2015, demonstrating the techniques in colorful pictures. The book has since been included in the country's physical education materials for primary and middle schools.
Deng, the national coach, gives free training to the public as she tours China, with more than 100,000 people estimated to have taken part in the sessions.
In recent years, the game has gained popularity in Southeast Asia, Europe, the United States and elsewhere, according to the International Shuttlecock Federation, which was established in 1999.
In 2016, Deng was invited to Italy to demonstrate the ancient Chinese game at an international traditional arts festival. "Some local children were really attracted by my performance and came to watch me every day," she said.
Deng found that in some European countries, such as Germany, France and Hungary, most shuttlecock fans are young people, "but in China it's regarded an exercise for elderly people".
She hopes the sport can be included in China's next National Games in Xi'an, Shaanxi province, in 2021 so that it can get more public exposure.
(Source: China Daily)