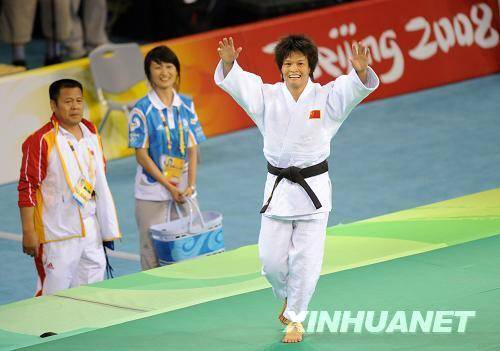 Xian Dongmei [Xinhua]
Staff at an elementary school in Urumqi, northwest China's Xinjiang Uygur Autonomous Region, invited Chinese Judo gold medalist Xian Dongmei to give a lecture on June 20 to share her inspirational experiences with students.
Speaking at the event at the No.10 Elementary School in Urumqi, Xian said, "People have been asking me how I practiced judo and became the Olympic champion.
"When I was young, I always ran to school every day for about two kilometers. I was in perfect health at the time, and I had practiced a variety of athletic sports, wrestling, field and track and other sports, one after the other. I eventually chose judo. I won after 14 years of training, which was hard to achieve."
Xian explained how she has suffered countless injuries and failures. However, she learned to insist and be strong from her previous judo regime.
"Judo not only refines your physique but also steels your willpower. Everyone could experience many setbacks and difficulties in life, just like you can get knocked down in a judo competition multiple times, but each time you learn to stand up again," said Xian.
According to Xian, her tour in Xinjiang was part of the recent project to introduce judo in schools carried out with the hope of helping children learn more about the subject and learn to be strong and persistent from practicing, and set them straight when they encounter difficulties or setbacks in their life or study.
Xu Lili, who won a silver at the 2012 London Olympics, also conducted a judo training class with students during the event.
The 2018 Judo Education in China campaign, which has started in north China's Inner Mongolia Autonomous Region, will last for five months in 15 places across the country. After the initial lecture in Xinjiang, the event will also be further conducted in the provinces of Guangdong, Jiangsu and Shandong.
(Source: chinanews.com/Translated and edited by Women of China)