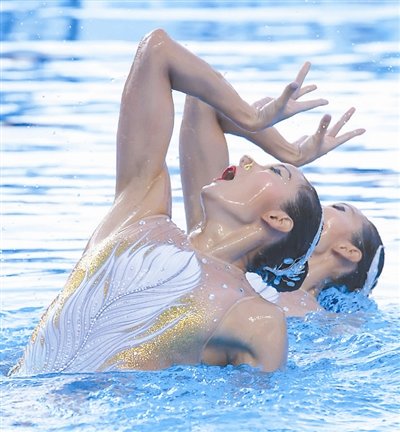 China's synchronized swimmers Jiang Wenwen and Jiang Tingting compete at the 17th FINA World Championships. [Xinhua]
China's synchronized swimming twins finished runners-up in two events last week in Budapest at the 17th FINA World Championships.
"Standing on the podiums, what we wanted most was to give our medals to our daughters," said Jiang Wenwen and Jiang Tingting, who won silver at the duet technical and duet free disciplines.
As former leading figures of China's water ballet squad, the 30-year-old sisters ranked fourth in the duet event at the Beijing 2008 Olympics and they were also part of the team that finished runner-up in the 2012 London Olympics.
The sisters retired after the National Games in 2013, but decided to make a comeback in 2015 after both giving birth to daughters.
This May, they claimed gold at the 13th Chinese National Games.
"We hope to inspire more female contestants at advanced ages to pursue their dreams. Athletes' golden careers can be extended," they added.
The Asset Brought by Time
In the eyes of coach Zheng Jia, the sisters have good body shape and are gifted athletes.
"When they were younger, I always felt they had some shortcomings," said Zheng.
"I needed to use many words to enlighten them on their training and do quite a few guided exercises as well.
"Sometimes they were correct but several days later, their improvements disappeared."
However, since the duo returned to the pool after childbirth, "unexpected changes" have taken place in them, she said.
"Their changes are significant. They can grasp the feel of gestures with few guidance and instructions," the coach added.
"They became stronger in mind, more mature and richer in emotion.
"Moreover, the sisters are more active in training, welcoming every day energetically rather than accepting it passively."
Better Interactions Within the Team
The pair noted that they chose to return out of great love for synchronized swimming.
"Our goal has nothing to do with achievements. We just want to enjoy competitions and show ourselves at our best," they said.
Maybe influenced by Tingting and Wenwen, a change also occurred in their mentor's mental state.
"In the past, what concerned me most was the scores and ranks. But now, I enjoy competitions and the process more," Zheng remarked.
Due to a former injury in Wenwen's shoulder and great training intensity, she often suffers severe pains which impaired her sleep. But she was never absent from training.
"I'm doing what I like to, so, whatever the difficulties, I will persist," she said.
"Meanwhile, I want to set an example for my baby and show her that she has a strong mom who never shrinks back."
Thanks to the sisters' good mental state, their interactions and communication with their coaches became more positive.
"As we're more mature, we feel that we are more like our coaches' friends. We talked more with them than before," she added.
(Source: Xinhua/Translated and edited by Women of China)