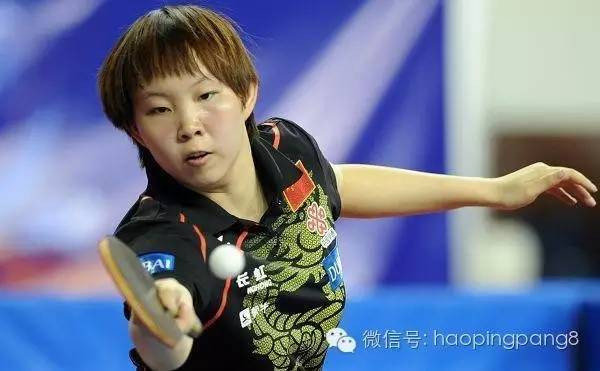 Zhu Yuling competes in an event. [sports.sohu.com]
Youthful table tennis star Zhu Yuling, 21, is considered by some to be one of the most promising young athletes in China's national team.
This summer, Zhu went to the 2016 Rio Olympics. Although she was only a reserve player, she still carried out a huge amount of preparation in support of the rest of her famous teammates such as Ding Ning and Liu Shiwen.
Becoming a Table Tennis Player
Zhu was born into a well-off family in the city of Zhuhai in south China's Guangdong Province. Instead of living an easy and struggle-free life, she chose to take up sports, an arduous career which requires both talent and tenacity.
When talking about how Zhu became a table tennis player, her father said it was a coincidence. "She often fell ill during childhood, so we sent her to learn table tennis when she was 5," he added.
"At that time, we just wanted her to develop an interest and improve her health. We never planned to train her into an athlete or a world champion."
Zhu began to take intensive training away from her hometown at 9. Worrying that she might be too young to take care of herself, her mother quit her job and rented an apartment near the training site until Zhu entered the provincial team three years later.
Since then, Zhu spent nine hours practicing table tennis every day. Meanwhile, she also took lots of different physical exercises and undertook academic study. The opportunity for her family to spend time with her became less and less.
Joining the National Team
In 2010, the 15-year-old Zhu was admitted to the national team due to her outstanding performance.
Being subject to even more rigorous requirements and standards, the teen athlete found it difficult in the beginning to adapt herself to the new environment.
Sometimes, when she felt wronged or received criticism, she complained to her family and even expressed the idea of giving up due to the hardship.
"She was still a child at that time, and it was normal for her to complain. We spoke to her and said: 'Aside from your own efforts, your coach and many other people also put in a lot to help you reach where you are today. Will you give up so easily?' " Zhu's father recalled, adding that her daughter at last chose to stick out to the end.
During the following years, Zhu began to take part in various national and international events.
In 2010, she captured a gold medal at the World Junior Table Tennis Championships in the girl's singles event.
In October 2014, Zhu and her teammate Chen Meng won gold at the Inchon Asian Games.
Last year, to qualify for Rio, the young athlete became an eager beaver, taking part in over 60 competitions in 12 months. Her winning rate ranked first among her counterparts in 2015.
This August, Zhu left for Rio as a substitute player.
"In the beginning, we planned to organize a group of relatives and friends to cheer for her in Rio, but later we dropped the idea. It was uncertain whether she could enter the field of play. We did not want to give her pressure," Zhu's father told journalists.
"We asked her what if she finally had no chance to compete. She said that she was still young and would use that opportunity to accumulate experience for the Tokyo Olympics four years later," her parent concluded.
(Source: Southern Metropolis Daily/Translated and edited by Women of China)