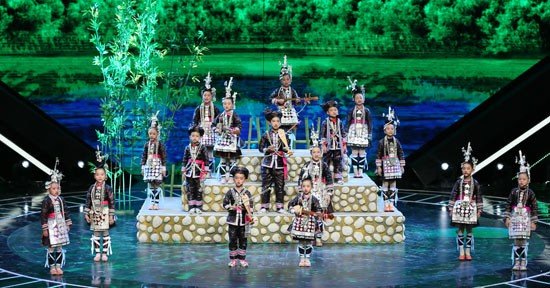 A choir from Congjiang County, Qiandongnan Miao and Dong Autonomous Prefecture, southwest China's Guizhou Province, performs on the television programme named "I want to be on the Spring Festival Gala". [people.com.cn]
A choir from Congjiang County, Qiandongnan Miao and Dong Autonomous Prefecture, southwest China's Guizhou Province, performed in a program of China Central Television recently.
The choir has 16 members, the oldest among whom is 11 years old and the youngest 7 years old. All of them are left-behind children, whose parents left home and work in other places.
The village where they live is famous for Lusheng, a traditional reed pipe musical instrument.
There are 302 households, consisting of some 2,000 people in their village, of which more than 300 people have left as migrant workers.
Fengying, the organizer of the choir, used to be a migrant worker herself. Her little daughter once said that she would have not remembered her if her mother had kept working outside the village for long.
Three years ago, Fengying returned to her village and established a homestay hotel for visitors while at the same time engaged in selling national costumes. And in this way, she could take good care of her daughters.
Fengying organized a choir, with a hope to lead the left-behind children to love and embrace life through music.
"In addition to singing, these children can also study together. We have reading classes, outdoor classes, traditional knowledge classes. The history and culture of our Dong ancestors were in those songs. I hope children who grow up with music could inherit Dong culture," said Fengying.
Most of the teachers in the choir were local villagers or volunteers and they taught for free. Children gathered in the teacher's house and learned how to sing every weekend.
Fengying and her choir team participated in a chorus festival in Beijing in June, which drew widespread public concern for left-behind children and Dong culture.
"Although they are left-behind children, they like TFBOYS, a famous idol group in China, as other children of the same age do, and they also like to perform in front of adults. What they want most is companionship," she said.
It was hard for most of the parents of these children to go home during Spring Festival in the past. Yet, Fengying was hoping that their parents could watch their performance on television, which was a reunion in another sense.
"Nowadays, there are a lot fewer left-behind children in the village. Many parents have returned home. With the vigorous development of rural tourism, there are more employment opportunities available for villagers in the county," she added.
(Source: workercn.cn/Translated and edited by Women of China)