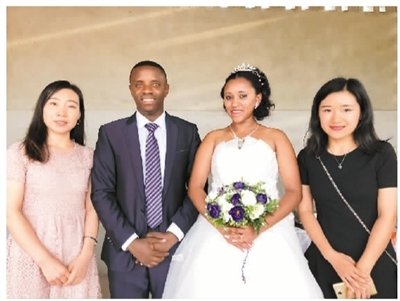 Searle (2nd left) and his bride pose for a group photo with teachers from the local Confucius Institute. [people.com.cn]
Learning Chinese has been a life-changing experience for three students and professionals in Mozambique, who recently shared their stories.
All of them attended or have taught at the Confucius Institute of Eduardo Mondlane University in Maputo, Mozambique.
One of the teachers there is called Searle. He lost his father at a young age and was raised by his brother in an underprivileged environment.
"When I was young, my biggest dream was to have a home of my own," recalled Searle.
In February, he got married, finally realizing his childhood dream. He invited his Chinese teachers to his ceremony to share his joy.
His beautiful bride is also a Chinese learner. They met each other on their flight to China, where they would study at Zhejiang Normal University, in east China's Zhejiang province. Searle believes that his romance was another gift brought from China.
Besides having a happy family, Searle has also earned an enviable career after becoming the first Mozambican Mandarin Chinese teacher.
For Searle, learning Chinese has been a difficult yet rewarding experience. He spent three years studying in China and obtained a master's degree in Teaching Chinese to Speakers of Other Languages (MTCSOL).
Last year, he was hired by Eduardo Mondlane University as a teacher and returned to his motherland.
Searle cherishes his job. With hard work and dedication, he has achieved a lot. Last year, he led a group of students to attend the Chinese Bridge contest, a proficiency competition for foreign students, and they won the first prize in Africa.
By learning Chinese, Searle accomplished his dream of building a family, and at the same time also realized his life value. Today, he has become the idol of many locals.
Another Chinese learner is called Murphy. After graduation from college, he struggled to find an ideal job and worked as a salesman. The hardship of his position urged him to pursue a new career and acquire a new skill.
In 2016, after learning Chinese for over a year, he became the translator for a general manager in a premium insurance company in Mozambique.
"I am satisfied with my current work," said Murphy, "It has broadened my horizon, and I want to continue learning Chinese to help promote my career."
Oja, also a Chinese learner, said she has regained her confidence by learning the language. She started learning after her grandmother was treated by Chinese medical corps deployed in the country.
Oja is an assiduous student, according to her grandmother. She said, "For a while, I thought she was crazy, because she would engross herself in learning Chinese all the time, whether she was having meal or going to bathroom."
Oja's hardwork paid off. She received a scholarship to study in China for one year. During her stay in China, Oja earned straight "A" grades for all her courses, on two of which she even got full marks.
Oja plans to pursue a degree in MTCSOL and become the first female Mozambican Chinese teacher, bringing confidence to herself and other young women as well.
With ever-increasing cultural and economic exchanges between China and Mozambique, there will surely be more Chinese learners of this kind in the future.
Oja attends a show on Chinese culture in Mozambique education. [people.com.cn]
(Source: people.com.cn / Translated and edited by Women of China)