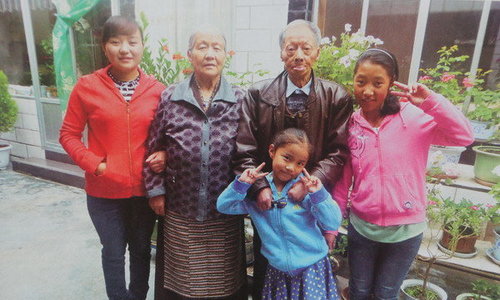 Ciren Langsuo (L2) and Zhang Huaxiang (R2) with their granddaughters [Tibet.cn]
An elderly woman from southwest China's Tibet Autonomous Region, whose husband was severely injured in a forest fire nearly 50 years ago, recently told journalists about her married life in challenging times.
Through a friend's introduction, Ciren Langsuo met and married her husband Zhang Huaxiang in 1962.
"There was no difference between us, even though he is Han ethnicity. His honesty and handsome looks left a good impression on me," Ciren recalled.
However, their life together was not as smooth as they expected. In 1970, a forest fire broke out in Nixi Mountain near the Tibetan city of Linzhi.
While fighting fire, Zhang was badly burned and had to have all his fingers amputated.
"Amid the fierce flames, a strong wind blew me into a ravine with other firefighters. Luckily, a pine tree kept me from falling onto the ground. When I woke up, I found all the skin on my face and hands got burnt," he recalled.
Meanwhile, his wife was pregnant, so local officials decided to keep the news secret from her.
Several months after her son's birth, all Ciren knew was that her husband was being treated in Shanghai.
"My colleagues all advised me to get a divorce, as my husband would have to live as a disabled man," she recalled.
However, she did not take their advice. Instead, she hailed him as a hero, believing that it would prick her conscience if she decided to abandon her husband, who was suffering from injuries caused by the fire fighting.
At that time, apart from working to support the family, Ciren also needed to take care of her young son and her blind mother.
During that period, her husband had undergone 20 operations, suffering the unbearable pain of having large areas of skin grafts, the amputation of his hands and other treatments.
In 1973, Ciren arrived in Shanghai with her two-year-old kid to take care of her husband.
Ciren told the reporter: "When I first learned that my husband had been burned, I was sad. However, I'd never expected he had been injured so severely."
"At that time, I only thought that I would accompany my husband no matter what," Ciren added.
After four years' treatment, Zhang recovered and left the hospital. He was sent to Chengdu, capital of southwest China's Sichuan Province, for long-term recuperation.
Ciren chose to stay with her husband looking after him, despite the fact that she had great difficulty in getting used to the weather in the city of Chengdu.
Zhou Dunyou is a colleague, classmate as well as home fellow of Zhang who visited Chen in Chengdu in 1975. Recalling their reunion some 40 years ago, Zhou said, "The moment we saw each other, we locked in an embrace, too excited to say anything."
In 1980, after many requests, Zhang was finally allowed to go back to Lhasa.
There, Zhang still kept working, in spite of his strong reaction to the high altitude.
"We all deeply admired his strong will," Zhou said.
Amidst hardship and happiness, the couple has experienced over 50 years of married life.
Moreover, their experiences also greatly influenced their children.
"I have learned a lot from my father and mother: inseparable love, the importance of being strong, as well as deep commitment to the family," said their daughter Ciyang.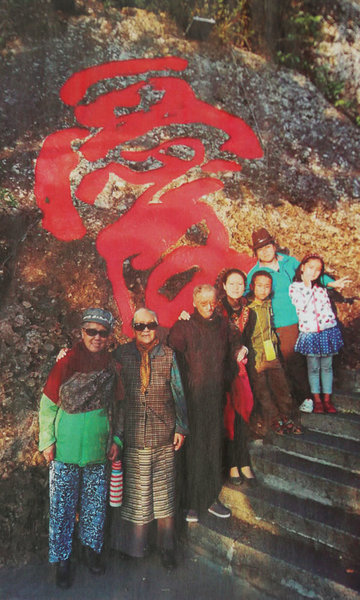 Ciren Langsuo (L2) travels with family members and her husband Zhang Huaxiang (L3). [Tibet.cn]
(Source: Tibet.cn/Translated and edited by Women of China)