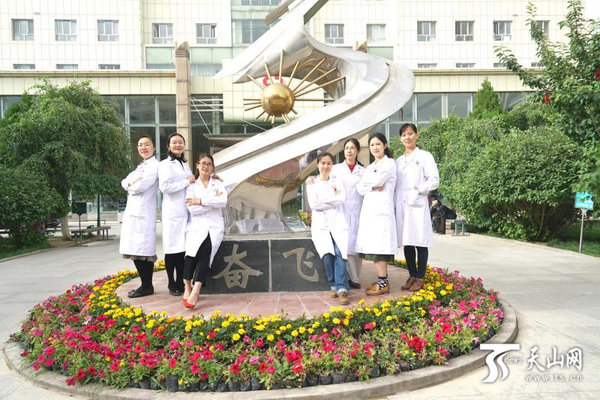 Medical-aid doctors in the No.1 People's Hospital in Kashgar [Xinhua]
Physician Di Na from Sun Yat-Sen Memorial Hospital, Guangzhou, south China's Guangdong province, joined a charity medical-aid team to visit northwest China's Xinjiang Autonomous Region recently to support the construction of local medical facilities.
Medical talents from Guangdong have visited Xinjiang on regular basis since April 2016, applying for 410 projects, with 47 selected as provincial-level or higher-level scientific research projects.
As part of the efforts, organizers have allocated a total of 74.62 million yuan from various finance departments, and donated four types of medical equipment at a total value of some 250,000 yuan thus far.
The medical team scheduled to set out for Xinjiang this year consist of 24 experts from 13 top hospitals across the province who come from different fields including medicine, science, technology and management.
Sentiments
"I'm a mother of two, and when I was on the flight to Kashgar, I had just weaned my second child of 11 months old," Di recalled. "My son of eight gave me a sunflower as a gift," she added.
Although Di misses her children a great deal, she hopes they could have an understanding for her choice in the future.
"I'm a doctor contributing my share to help the local people in Kashgar, which is meaningful," she added.
Di's husband, who is also a doctor, gave up many opportunities in order to support her endeavors.
"Without such strong support of my family members, I am afraid that I could not have made such a decision," Di said. "However, I shall never regret it, as many people needed our help, especially young women."
After arriving at the No.1 People's Hospital in the local city of Kashgar, Di instantly plunged herself into relevant work.
"There are a lot of to do. I am hoping to establish a solid and innovative team as soon as possible, so as to better help other doctors who come to assist in the future," Di announced.
With her expertise in prenatal diagnosis and ultrasound, Di said close contact with patients gives her a better understanding of the urgency of carrying out early disease screening and improving the physical wellbeing of pregnant women and locals.
Commitment
Referring to the experiences of giving treatment to her patients, Di said: "Once, I was on board a flight back to Kashgar from Guangzhou when an accident occurred in a passenger."
"On that day, after the plane had begun descending with turbulence, the crew urgently called for a doctor, as a woman had suddenly became dizzy," she recalled.

Di came to the aid of the passenger straight away, and after checking, she found a blood spot on sclera of her right eye and in addition, her pulse had become weak.
"I initially judged that it as the damage caused by changes of the cabin pressure and fluctuation of patient's blood pressure during the descent. With limited on-board conditions, I could only give the patient some simple acupressure to relieve her discomfort," Di said.
Moreover, after landing, she immediately called her teammates in the field of ophthalmology for suggestions, and wrote down details for a follow-up examination on the patient's plane ticket.
"We are striving to improve the medical level of medical workers in Kashgar and bring advanced medical technologies and concepts to the local people, which is the very significance of our joining the program," Di said.
(Source: Xinhua/Translated and edited by Women of China)