Liu Jiajing communicates with local officials. [Tibet.cn]
Members of a humanities investigation team from the Feng Yun Society of China Agricultural University recently shared their experiences of visiting southwest China's Tibet Autonomous Region.
There, the team has been carrying out social practice projects ever since 2005.
Liu Jialiang, a junior student, headed the group this year. It is the second time for her to join the team in carrying out investigations in Tibet. Liu was highly appraised by her peers for her patience and carefulness. "Compared with the new team members, my curiosity was not as strong though, when I arrived in Bainang County, I was deeply shocked by what I saw," Liu said.
Curiosity
Located in the south of the region, Bainang County is affiliated to Shigatse City. As an important agricultural area, it has some 1,647 acres of barley, medlar fruit trees and vegetable crops.
"I was immensely struck to see such a vast stretch of barley fields in front of me when I first entered the area," Li recalled.
"Different regions around Tibet are characterized with different life habits," she said.
"In Mayi Village of Bainang, we saw that Tibetans were keeping cattle and sheep in their yards since most of the local area is arable," Li explained.
"In their homes, the first floor is a storehouse for food, and the second floor is a place to live and entertain guests."
Tsamba Powder
Moreover, Li has gained more understanding of local customs during several days of investigation in the area.
Team members communicated with the village secretary and officials of the cooperatives to better learn about local conditions.
Liu said: "When the investigation came to an end, one elderly Tibetan woman smeared some Tsamba powder on our shoulders to show their thankfulness."
"What impressed me most are the tremendous changes in the life of the Tibetans, but the simplicity and sincerity of the local folks hasn't changed a bit," she added.
Helping More People
"During our stay in Tibet, we often met at night to sort out the information gathered during the day as completely as we could and voiced our opinions, and exchanged views," Liu said.
As for the development in future, Liu, who majors in veterinary medicine, explained: "The subject of this investigation was not much relevant to my major, and what could be counted as anything related was perhaps the local pasture and grassland that I've been to twice during the trip of the investigation as part of the supporting education program."
"There was once when I went to the pasture under the guidance of the local veterinarian, and that gave me an access to observe closely their working environment as well as working methods. I hope I can learn more in the future so as to be able to help more people with my expertise," she added.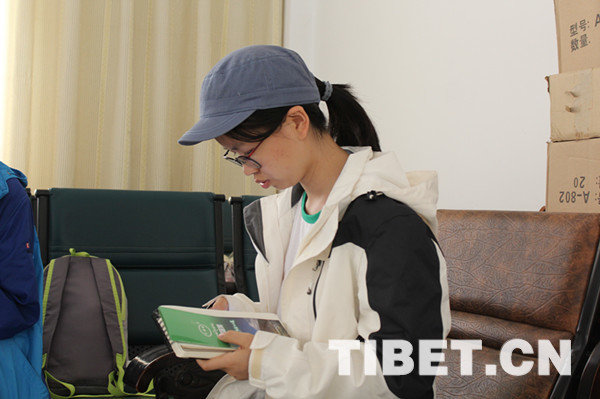 Liu takes notes. [Tibet.cn]
(Source: tibet.cn /Translated and edited by Women of China)