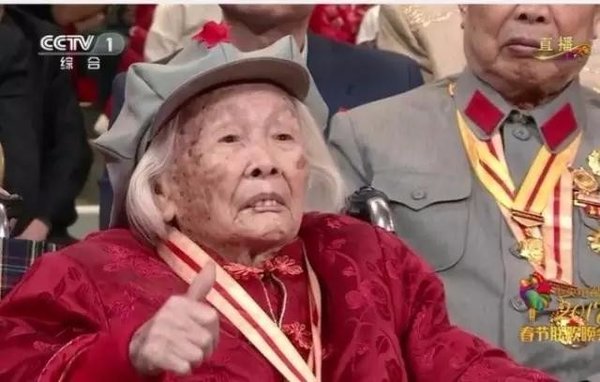 A screenshot of Wang, who celebrates her 105th birthday at the 2017 Spring Festival Gala [Women Voice]
The 2017 Spring Festival Gala, held on January 28, featured a celebration for the 105th birthday of Wang Dingguo—the eldest surviving Red Army veteran who participated in the Long March (a military retreat that took place from 1934–1936)—greatly inspiring young people nationwide to make concerted efforts to serve the nation.
From an illiterate rural woman to a highly regarded revolutionary, Wang fully demonstrated a Chinese woman's tenacity and strong willpower throughout her entire life.
Born into an impoverished family in Yingshan County of southwest China's Sichuan Province, Wang joined the Red Army and the Communist Party of China (CPC) when she was 20. Two years later, she participated in the Red Fourth Army, embarking on her hard and long journey of fighting against the country's enemies.
To commemorate the 80th anniversary of the victory of the Chinese Red Army's Long March, a reporter from China Women's News paid a special visit to Wang on October 15, 2016.
Upon arriving at Wang's home, the reporter found the elderly woman watching a TV series featuring her stories during the Long March. When talking about her feelings toward taking part in the historic Chinese event, Wang took a pen and wrote four characters: "Long March long live."
Meanwhile, the senior woman also showed the reporter a magazine with her picture on the cover.
Wang shared that during the period of the Long March, living conditions were perilously harsh, and she suffered many tribulations that are now beyond people's imagination. The brave woman recalled that she once broke off one of her frozen toes after she failed to cover it up with a quilt during a snowstorm. Despite this, she did not give up and still followed the path of the Red Army.
At that time, Wang met her partner Xie Juezai, whom she would later marry.
From working around her husband for a long time, Wang gradually learned how to read and write characters and, through her hard work and persistence, even learned how to write poems.
On June 15, 1971, Wang's partner passed away. With the deep love she held for her husband, Wang tried her best to sort out Xie's scripts and diaries over the past few years. In the end, she had gotten published several of Xie's books, which became very valuable historical documents in the country.
Aside from this, Wang never stopped acquiring new knowledge and skills, even in her declining years. According to Wang's son Xie Yaxu, she started learning painting when she was over the age of 70.
Xie maintained that his mother has been extremely open and generous throughout her whole life—part of the reason her pictures are so magnificent.
At an advanced age, Wang still wishes to make contributions to promote the development of the country, in whatever way she can.
Over the past few years, the competent Red Army veteran tried her best to establish an association to protect the Great Wall, making a special TV series to raise people's awareness.
Moreover, during the 1990s, she advanced the protection of the natural environment in the face of desertification, which became quite serious in many areas. In recognition of her efforts, she was presented with the "Chinese Ecological Contribution Award" by the National Afforestation Committee in 2009 and was presented with the "Lifelong Ecology Contribution Award" in 2011.
Under Wang's influence and educational tutelage, all of her seven children have achieved excellent performance in their respective jobs.
The reporter said that one corner of Wang's home has been decorated with different pictures, some of which are group photos of Wang with some top Chinese leaders.
Yang Qiongxian, a woman who has taken care of Wang for decades, commented, "Wang is a dedicated Party member who has never forgotten her initial objective: to serve the Chinese people and the nation in her lifetime."
Wang's calligraphy works are shown at the 2017 Spring Festival Gala. [Women Voice]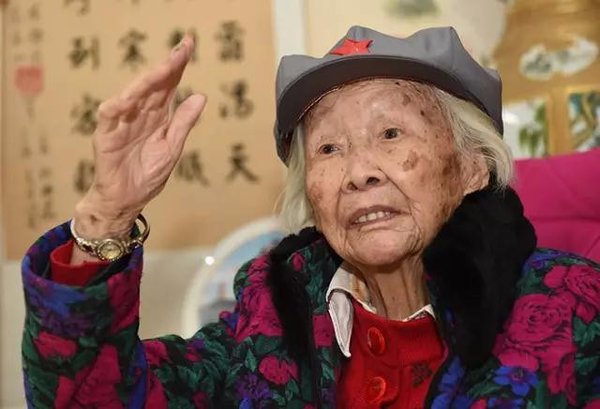 Wang, at the age of 104, gives an interview with a reporter from China Women's News. [Women Voice]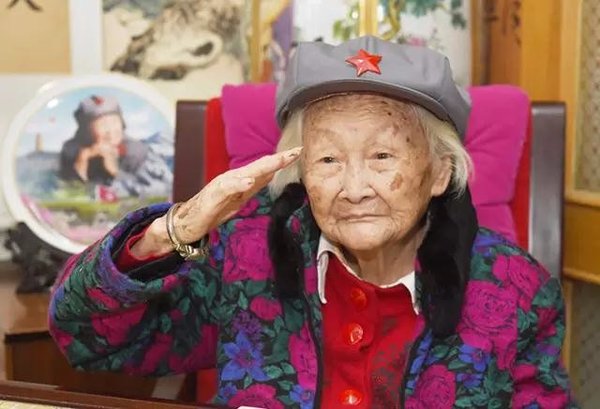 Wang raises her right hand in salute. [Women Voice]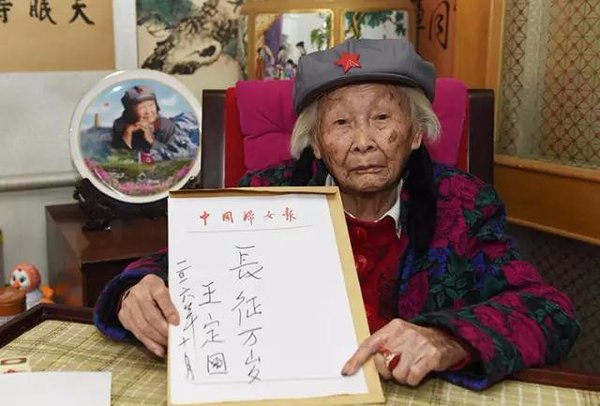 Wang displays the characters that she penned. [Women Voice]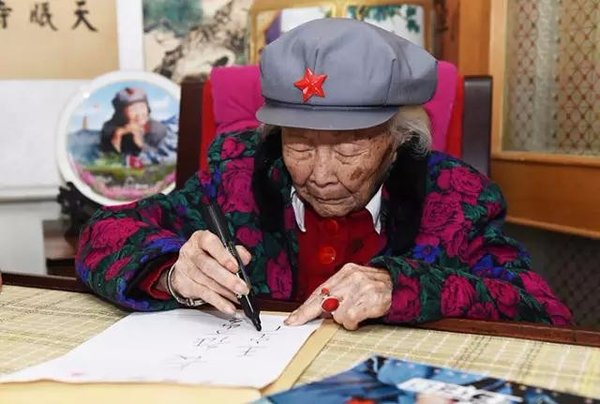 Wang draws Chinese characters. [Women Voice]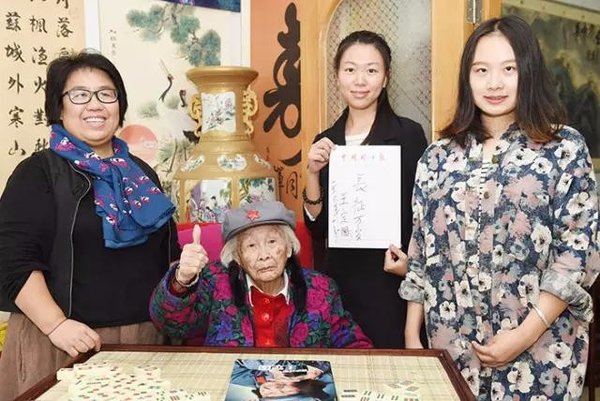 Wang and reporters from China Women's News pose for a group photo. [Women Voice]
(Source: Women Voice/Translated and edited by Women of China)