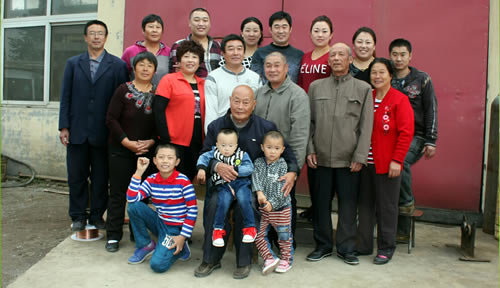 Li Qiuling's family [hebnews.cn]
A couple from a rural household in a village near the city of Qinhuangdao in north China's Hebei Province were recently honored as a "Five Good" Civilized Family in recognition of their entrepreneurial spirit and care for others.
Li Qiuling and her husband Yang Guang received the award from All-China Women's Federation, as part of their ongoing campaign to promote family values.
The pair have filled her home with happiness over the past 20 years, as they looked after Li's parents-in-laws and used their wisdom to start their own business.
Furthermore, the couple are always ready to help their fellow villagers, say those who know them. Under the parents' influence, their son and daughter-in-law have also fostered a spirit of respecting seniors and being kind.
Liu married Yang 28 years ago and moved in with her parents-in-law. Two years after the wedding, the elderly mother-in-law suffered from a stroke and became bedbound.
Though the woman had three daughters and two sons in total, Li shouldered all the responsibilities until the elderly lady passed away two years later.
Fearing that Yang's father might feel lonely, Li told him interesting stories every day about what happened at her work. The elderly man is a Peking opera lover, so Li bought him a MP3 player, in which she stored over 3,000 traditional Chinese songs.
The senior man often praised Li in front of his fellow villagers. But Li said that she just did what she should do.
In 2000, when their son graduated from a technical school, Li and her husband opened a small processing factory with their savings and the money they borrowed.
The family overcame difficulties one after another over the years and gradually developed it into the current Qinhuangdao Qichi Machinery Manufacturing Company. Apart from contributing to the national tax revenue, they also offered job opportunities to 18 local villagers.
Over the years, they often helped local farmers repair machinery for free. In addition, Li volunteered to help solve domestic disputes and other difficulties whenever her fellow villagers needed.
Their good deeds won their respect from locals. Their example has given people a better understanding of rural families in the new era, said officials.
Li Qiuling (L), her husband Yang Guang (R) and Yang's father (C) [hebnews.cn]
(Source: CCTV/Translated and edited by Women of China)