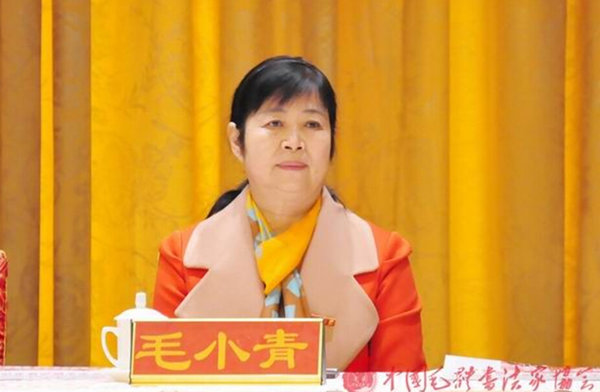 Mao Xiaoqing [china-maoxie.com]
Mao Xiaoqing, 66, daughter of a younger cousin of Chairman Mao Zedong, has seen success with her businesses in multiple areas and is the first person to do so in the Mao family, particularly without using her personal link with the great statesman.
Mao left her home city of Shaoshan in central China's Hunan Province and moved to Beijing in 1996. She resigned from her position at a local government-run hotel and decided to join the rising trend of the "Mao Dishes," food usually eaten by Chairman Mao and some of his hometown specialties.
With money borrowed from relatives, she started a restaurant downtown in the capital the same year.
"To run the restaurant, it all depended on my own strength," she claimed in a 2012 interview.
Over the years, she went through multiple setbacks, from fraud and water and electricity cutoffs to malicious destruction of her property. Nevertheless, she never intended to settle the disputes by virtue of her connection to her late highest-ranking family member.
"As soon as you reveal your identity, who dares to cheat you then? Why would you always carry everything on your own shoulders?" questioned some of the seniors who had worked for Chairman Mao. Even they couldn't understand her firm stand.
"I'm not used to seeking help from others just because he is my uncle. I've never had such thinking," she noted.
While her family received aid from her uncle's royalties from 1949-60, as her father became visually impaired fighting in the war and was unable to make a living, the woman was often taught not to bother others with her own problems.
Whenever a conflict arose, she would resort to legal means, rather than make use of her special identity.
Apart from her catering business, Mao Xiaoqing also runs a cultural products company, while also holding positions at multiple institutions for promoting the literary legacy of the former state head and the country's revolutionary culture.
Moreover, the accomplished businesswoman has worked as a member of her native province's political advisory body. She has made multiple proposals concerning the benefits of various groups, such as equipping schools with beds for children to have midday rests, improving bank loan services for small and medium-sized enterprises and requiring government officials to disclose their assets.
Despite her tight schedule, Mao has also involved herself in charity and volunteer work. Recently she visited and brought gifts to disabled performers in a Beijing-based troupe.
(Source: The Beijing News/Translated and edited by Women of China)