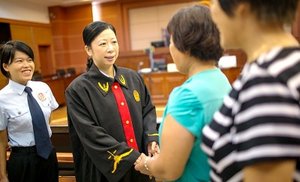 Huang Zhili (L) shakes hands with a woman. [fjredcross.org.cn]
Huang Zhili, a grassroots judge in southeast China's Fujian Province, has been dubbed a "companionable judge" for her affection to villagers and her impartiality whilst handling cases.
Huang, 43, is now a deputy presiding judge at the people's court in Xiangcheng District, Zhangzhou City.
Since taking the post 13 years ago, she has often gone to villages and communities to visit the litigants, learning about their difficulties, and uses different methods to find out more about their situation.
When tackling divorce cases, she tries her best to promote traditional domestic virtues, and when dealing with private lending cases, she recommends the defendants to be honest and keep to their word. Whilst handling cases on neighborhood disputes, she asked people to behave modestly and politely for harmony's sake, and when judging cases on senior support and family upbringing, she advocated the virtues of respecting the elderly and loving children.
The older members of the village like to call her "little girl" or "younger sister", because they have always regarded her as family.
"There are numerous small disputes in the village. When she delivers her judgments, she seldom preaches to them. Instead, she sits down and chats with the elderly in their own dialect," said Ke Laishan, a villager in Nongyou Village, who admires Huang for her patience.
Concluding cases, solving disputes and keeping harmony are always the pursuits of Huang and her colleagues in their work.
"The law is cold, but the judge should be warm," said Huang. She was clear that in tackling neighborhood disputes and domestic issues every day over the past years, "there is affection behind each case. The affection between each other is fragile, and if they go to the court, then their vulnerable relationships will be damaged."
Huang concludes about two cases every day, with the rate of appeal less than 3 per 1,000. Data shows 40 percent of cases she handled are concluded within seven days, and the rate of mediation and reaching a settlement is 93 percent, with over 99 percent obeying the judgment and accepting the decision. In the face of the great pressure at her work, she has never complained.
To date, she has judged and concluded more than 5,000 civil and commercial cases.
In June 2012, Huang established an office in Xiangcheng District, to offer better legal services to the public. She goes to the communities and villages twice a week, to carry out case handling, pretrial mediation and legal consultation services.
By October 2014, Huang and her colleagues had provided 474 consultative services, offered 134 legal services in communities, enterprises and families, helped the public solve 59 practical difficulties, handled 94 cases, and resolved 505 people's disputes.
So far, Huang has established five such offices in the district.