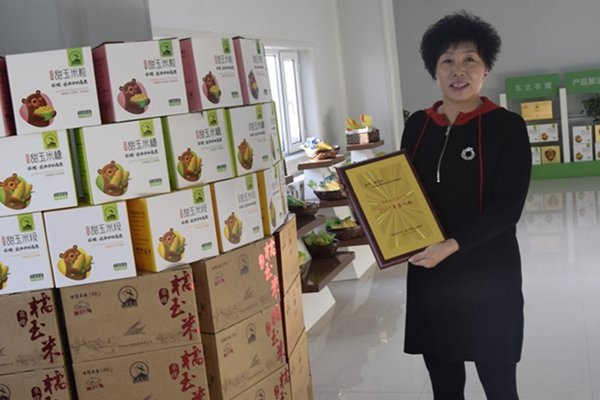 Sui Shuxia, president of the Jilin Province Agricultural Sister-in-Law Food Co., Ltd [cnjwang.com]
CHANGCHUN, Dec. 5 (Xinhua) — Sui Shuxia, a 52-year-old farmer in northeast China's Jilin Province, has been busy packaging fresh corn in vacuum packs labeled in Spanish, Arabic, Japanese, Korean and other languages with her workers.
The image of a lady on the trademark of Jilin Province Agricultural Sister-in-Law Food Co., Ltd. is herself, a peasant woman who grew up in poverty in a family of six people living on meager yields from 0.3 hectares of cornfields.
Sui started her corn business eight years ago but has seen her "Sister-in-Law" brand of vacuum-packed fresh corn appear in markets in a dozen countries in Europe, South America and the Middle East.
While before that, Sui said she had no idea that corn, the traditional staple food in her hometown, would bring her fortune.
To make a living, she had followed in her father's footsteps to try to make money from selling snacks, working as a taxi driver, opening small restaurants, and selling auto parts and mineral water. But none of the ideas had anything to do with farming, which only reminded her of childhood poverty.
It was not until 2012 when a friend asked her for help to contact fresh corn suppliers in northeast China for corn trade. It suddenly came into her mind that the key to her future was right at the doorstep of her native home.
"I thought why was I still running around? I should return to cornfields to do what I do best," said Sui.
Back in her hometown in Gongzhuling, Jilin, she converted a mineral water packaging workshop to a corn processing plant, registered a trademark, bought equipment and contracted growers.
Over 400,000 ears of waxy corn were harvested in the autumn of 2012. But due to the lack of market experiences, she had to sell the corn at a low price.
"After the setback, I learned to conduct market research and found there was a huge demand for sweet corn overseas," said Sui.
She switched from growing the glutinous corn to sweet corn and contracted with a Shanghai food trading company to get her access to an overseas order in OEM production.
This time, she worried about her production capacity, as the order required a total of 864,000 ears of sweet corn in 12 shipping containers.
In order to catch up with the orders, Sui borrowed money, hired workers, bought additional equipment and worked overtime. Finally, the vacuum-packed fresh corn landed at Kuwaiti ports and was sold to Iran, Iraq and the United Arab Emirates.
The farmer's entrepreneurship in agricultural food won support from the local government, which helped her explore the Japanese market in 2014.
She built a production workshop in modern GMP standards to better bring her farm produce to overseas markets. The fresh corn products with her trademark reached the Chilean market in 2015, the market of the Republic of Korea in 2016 and the French market in 2017.
The vacuum-packed corn products have started to win over domestic consumers' appetite in recent years, as Sui has been actively exploring the domestic market with a variety of waxy corn, sweet corn and black corn products via both online and offline sales channels.
Her primary attention has always been on the corn supply. Sui has established 16 planting bases in the northeast China provinces of Heilongjiang, Jilin and Liaoning, with a total area of 1,333 hectares and an annual output of 25,000 tonnes.
In 2019, the output value of Sui's firm is expected to exceed 150 million yuan (21 million U.S. dollars), employing more than 1,000 people.
"My hometown is located in one of the world's three 'golden corn belts.' I hope the corn yield from the black soil can be shipped around the world," said Sui, peeling off raw corn leaves to taste the sweetness.
(Source: Xinhua)