Huang Yuning wins the Blancpain-Imaginist Literary Prize recently for her collection of short stories, Eight and A Half. [For China Daily]
A longtime translator of well-known books finally comes into her own as an author.
After translating literary works by such famous writers as F. S. Fitzgerald, Ian McEwan and Agatha Christie, and writing literary criticism for years, Huang Yuning finally took up writing herself. Her first collection of short stories, Eight and A Half, won her the Blancpain-Imaginist Literary Prize recently.
Sponsored by Swiss luxury-watch brand Blancpain and Chinese publisher Imaginist, the annual prize was established in 2018 to award writers younger than 45 years old.
The winner gets 300,000 yuan ($42,690) and a watch from Blancpain.
"In the fields of sports, music and film, young Chinese have been quite active, but their voices are not so loud in literature. It is not because they are not diligent enough, but the platforms on which they can show themselves are not enough," says Jack Liao, vice-president of Blancpain China.
The evaluation committee includes culture critic Dai Jinhua, filmmaker Jia Zhangke, writer Lu Nei and novelist Zhang Dachun, among others.
They chose Huang as the winner from nearly 100 entries because "Huang shows her abundant literary accumulations in her book and writes short stories with her outstanding vision. The different types of works she has written show her ability to combine modern Western novel traditions with Chinese writing."
Huang, 44, said at the ceremony in Beijing on October 25: "I'm grateful to the judges for selecting me — a middle-aged woman who started to write in her 40s — for this prize. I was not sure how much time and energy I would be able to invest in writing, but now I believe I will write with more self-confidence."
Huang says she had to fight self-doubt.
"I often read literary masters' works as part of my job as an editor at Shanghai Translation Publishing House. So, I also doubted I could write since there are so many good books written by others."
She finally plunged into writing.
"Considering that I am in my 40s, if I had still hesitated, I might have missed the passion to write and would have never crossed the threshold."
Huang calls writing an "endless process in human history" and says young people should not give up writing only because excellent works have been created by their predecessors.
"I live in different times compared with many of the literary masters, and I guess I can say something new about my era and find my own voice," she says.
In 2018, she published her collection, Eight and A Half, which includes eight short fiction and one nonfiction stories. Huang is a Shanghai native, but her stories don't have Shanghai features as do many other resident writers. Instead, she prefers "writing about people who live in quite different environments than I do".
Media is a core theme in Huang's writing. Mobile phones, social-media platforms, magazines and television often feature prominently.
"I want to explore the new interpersonal relations, people's desires and people's roles in society based on the development of the internet," she says.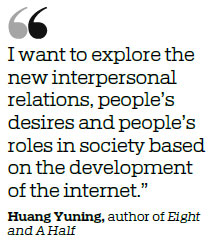 Literary critic Huang Ziping, who was a member of the judging panel for this year's prize, says: "Huang Yuning can focus on important social topics in her writing and can show the topics from different angles. Each of her works is quite different from the other."
Other competitors short-listed for the finals are seen as representatives of young writers in China. They include Ban Yu, Guo Shuang, Yang Hao and Yuan Zi (pen name).
Before they became full-time authors, Ban, Guo and Yuan Zi were associated with writing in some form. Ban was a music commentator, who wanted to "explore more possibilities in writing". Guo was a reporter, who got tired of writing true stories and wanted to "write something fictional". And Yuan Zi was an editor with a literature website, who was encouraged to write after reading others online.
Yang, on the other hand, was born in a literary family. Her father is a poet. She felt literature had accompanied her since childhood, and she wanted "to get rid of it by learning about film, art and even business".
But she found that whatever she learned, she still wanted to express herself through writing.
(Source: China Daily)