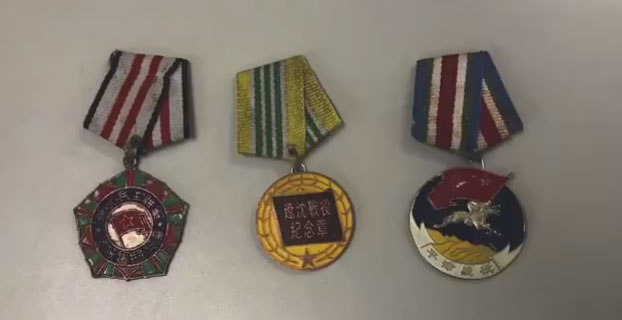 The three military medals [Screenshot from Sina Weibo account of Shanxi Evening News]
A senior veteran in North China's Shanxi Province is searching for the daughter of an old comrade to return three of his military medals.
Liu Xinghua, 86, is a veteran from Pingyao, North China's Shanxi Province. In 1952, he fought in the battle of Shangganling, also known as the Battle of Triangle Hill, where a platoon leader surnamed Shi was seriously injured. Shi entrusted his military medals to Liu and asked him to pass them to his daughter dubbed "Jinjin."
Since then Liu has been searching for the girl to no avail, and the medals have stayed with him for 67 years. In late August, with the help of Taiyuan public security bureau, Liu found a woman named Shi Jing, who might be the person he has been looking for. Unfortunately, it turned out she was not related to platoon leader Shi.
According to Liu, Shi was a war hero who saw action in the Liaoxi-Shenyang and Beiping-Tianjin campaigns. People call him "Platoon leader Shi" or "Hero Shi". Although the two soldiers did not spend much time together, they trusted each other and established a friendship.
"I figured Shi knew he was not going to make it, so he took out a small bag with three military medals in it, and asked me to hand them over to his daughter," Liu said. "I am 86 years old now, and I hope with the help of others, I can fulfill my promise."
(Source: chinadaily.com.cn)