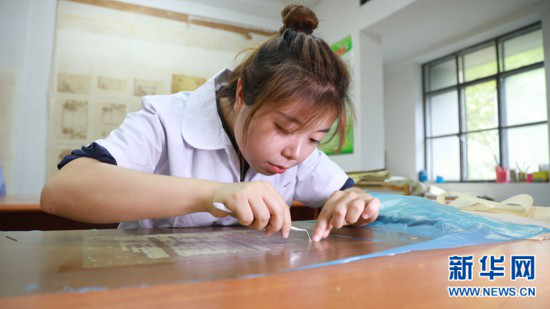 Zhao Huimin restores a leaf of damaged archives of the Republic of China (1912-49). [Xinhua]
Zhao Huimin, a young restorer at the Jiangsu Provincial Archives, in East China's Jiangsu Province, is working on the restoration of the archives dating back to the period of the Republic of China (1912-1949).
As time goes by, the files suffer wear and tear and the paper turns yellow, and some even become extremely brittle, making them hard to repair.
"Some of them were damaged so badly that I wasn't even able to fix one page in a day. When the repair work goes well, I can do a few pages a day," said Zhao anxiously.
"With a huge amount of 'weak' ancient files, what I can do might just be a drop in the bucket, but with determination and perseverance, I will try my best to repair as many archives as I can," she added.
Zhao needs to find the suitable repair tissue before performing the procedure of restoration, and she usually chooses the ideal paper tissue with a lighter color than the original file. [Xinhua]
Zhao joined the Jiangsu Provincial Archives four years ago when she was 24. Now, her colleagues call her "archive doctor."
"Most girls of my age like stylish and girly things, but I am obsessed with ancient files," she said cheerfully. "I do feel fulfilled and enjoy seeing historical fragments being preserved in a better way through my restoration."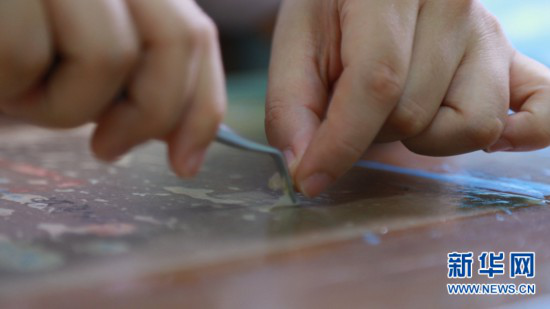 For those relatively well-preserved archives that are only slightly damaged by worms, Zhao just fills the holes with small pieces of paper to minimize the intervention on the original paper and prevent from excessive protection. [Xinhua]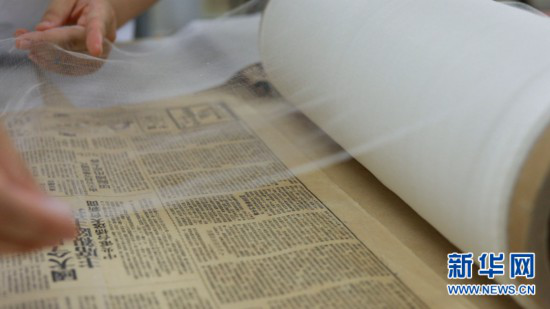 Zhao learns from senior restorers that brittle archive pages dated to the period of the Republica of China must not be soaked in water. They taught her how to repair the pages with silk mesh. [Xinhua]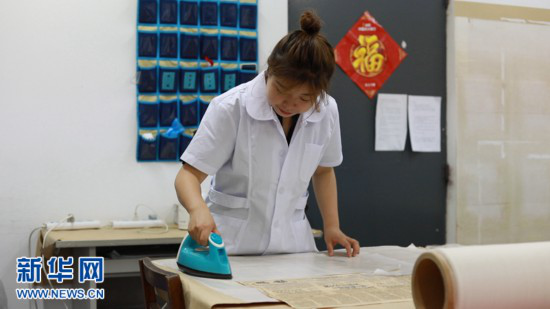 Zhao irons the laid silk mesh to integrate with a brittle, double-sided newspaper published in the early 19th century newspaper at a temperature close to 70 centigrade. The mesh adheres to the newspaper so well that one cannot spot it without careful examination. [Xinhua]
"The Jiangsu Provincial Archives has a collection of millions of volumes, with a history span of more than 500 years. We also have a large number of newly-acquired archives, and quite a few of them need to be repaired," she added.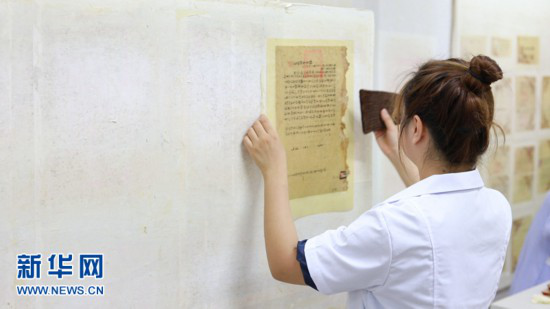 Zhao brushes the paper with proper strength to control its tension on the wall. She has acquired the experience through numerous times of practice in repairing archives. [Xinhua]
"Archive restoration has great social significance as the archives are the original documents that record the real history. Once damaged, its value will be reduced," Zhao said.
The restored files will be scanned page by page, and then made electronic files convenient for people to use, and the original files will be stored.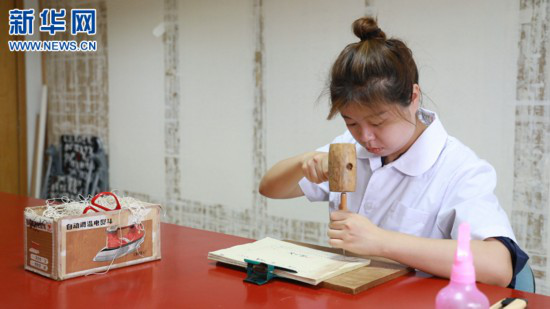 Zhao is punching the restored files, and then binding them with cotton thread. [Xinhua]
She said archive restoration was an important part of archival work, consisting of cleaning up mildew, killing worms, framing and reinforcement.
"We also use technologies, including simulation, microfilming and digitization to restore files as much as possible," she noted.
"I hope more individuals and organizations can donate their archives for good preservation. We will give these files good protection and preservation. Donors can get a simulation copy of the original archives, and they will always have the right to make the most of these files,"Zhao stated.
"I am determined to inherit the ingenuity and perseverance from the senior restorers, to live up to my new title of archive doctor," she said proudly.
(Source: Xinhua/Translated and edited by Women of China)