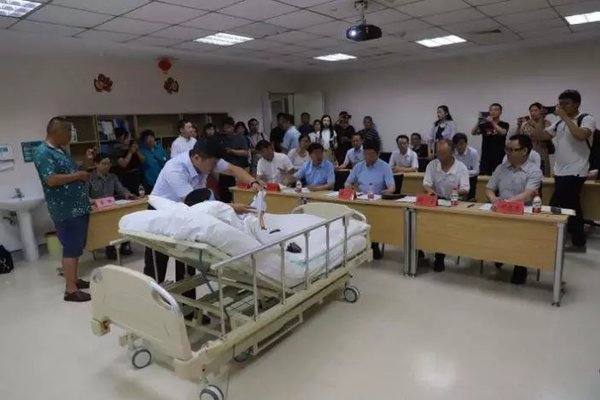 Cheng Yanfang defends her thesis in a meeting room at a hospital in Central China's Henan Province on June 2. [CCTV]
A special thesis oral defense was held for a seriously injured third-year graduate student in a hospital ward in Central China's Henan Province on Sunday.
The student, Cheng Yanfang, who was about to graduate this year from East China University of Political Science and Law, became a paraplegic after a car accident in April.
"Finishing her thesis, getting her master's degree and becoming a teacher is my sister's biggest dream," Cheng Hao, Cheng Yanfang's younger brother, told thepaper.cn. He said even though the accident left her with no feeling below her chest, she maintained her rehabilitation training and read papers in her spare time.
Before the accident, she had already finished her thesis writing. She planned to return to Shanghai to complete the oral defense in late May after finding a job in her hometown, Henan province. But she suffered a car accident on her way to attend a job interview a month ago.
Cheng Hao said her sister's life was saved, but her head, neck and chest must be fixed with brackets, and she cannot feel anything below her chest. She can only lift her hands and arms a little, and only three fingers out of 10 can move.
"She wants to finish her oral defense of master's thesis and get a job, like a normal student," Cheng Hao said.
To fulfill her desire, professors at the university made a decision to hold a special oral defense for Cheng Yanfang.
Cheng Yanfang's younger brother and a nurse hold her thesis for her by her side. [CCTV]
Many of her professors took the high-speed railway from Shanghai to Henan on Saturday, and there were also a number of doctors and nurses waiting to prepare for unexpected situations.
At 9 am on Sunday, Cheng's graduation oral defense began on time in the meeting room of Henan Provincial People's Hospital.
Lying on a hospital bed, Cheng presented her thesis with a loudspeaker clipped to her collar. Although her voice was weak, her thoughts were clear. She made excellent replies to the questions raised by the professors.
"Cheng was well-prepared for her thesis and defense. We can tell that she put a lot of effort in her academic research," Lin Ling, one of the professors, said.
Cheng passed the oral defense with "excellent" grade. "After voting by all members of the defense committee, it is suggested that the university academic degree committee award her the master's degree," the chairman of the defense committee announced.
Cheng Hao said he was deeply touched watching his sister's over 40-minute of thesis defense. "The doctors said others would have collapsed due to the unbearable pain and a body that can't move."
"My sister was exhausted yet excited after the defense. It gave her enormous confidence. She will keep on rehabilitation training, get up someday and get back on track," said Cheng Hao.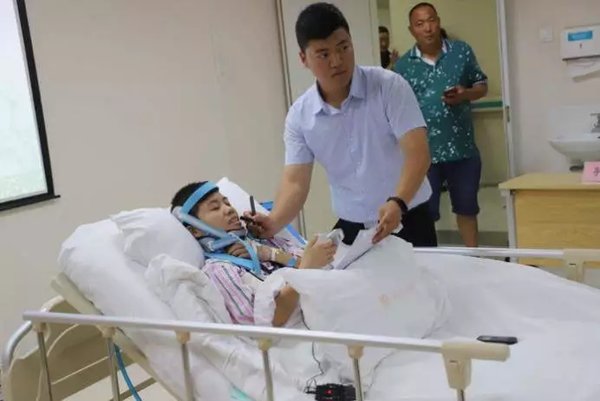 Cheng Yanfang's younger brother holds her paper and the loud-speaker for her during the thesis oral defense. [CCTV]
A photo of Cheng Yanfang during the thesis oral defense. [CCTV]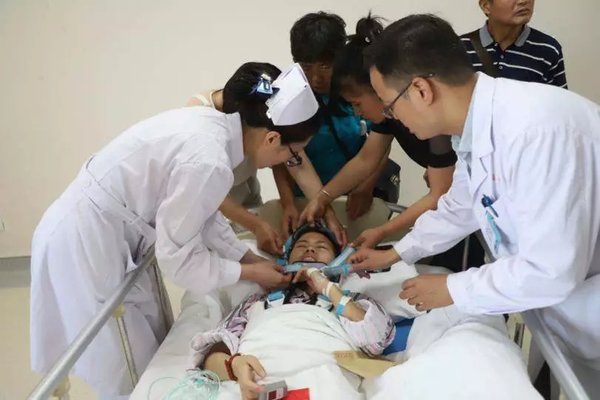 A doctor and a nurse check Cheng Yanfang's physical status after the thesis oral defense. [CCTV]
(Source: chinadaily.com.cn)