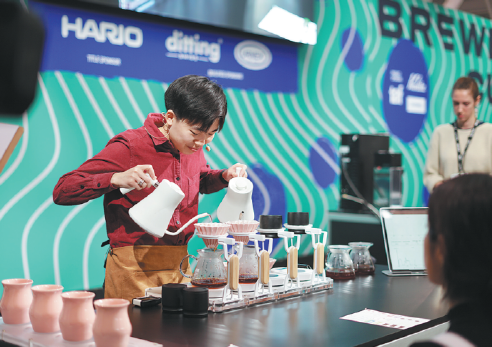 Du Jianing brews four cups of Ninety Plus Gesha Estate coffee at the final round of the Boston World Coffee Championships on April 14. [For China Daily/Dianne Wang]
"Welcome my dear customers. This is a picture of my coffee shop. In this beautiful place, we present the most exotic coffee in the world to coffee lovers in China.
"As a barista, I brew coffee and share the flavors and stories behind them. This is why I love coffee, because it is all about sharing," says Du Jianing as her prologue to the final round of the Boston World Coffee Championships on April 14.
Over the next 10 minutes, she makes four cups of Ninety Plus Gesha Estate coffee for herself and the three judges sitting in front of her. They watch her present her coffee-making skills with her narration and enjoy the coffee with her as if they were sitting in her own coffee shop-Uni-Uni Roasters and Bakery in Nanjing, Jiangsu Province.
Representing China, this final presentation helped Du win the 2019 World Brewers Cup Champion-her first win in three World Brewers Cup appearances, after finishing 15th in Ireland in 2016 and eighth in Brazil in 2018-making her the first Chinese winner of the event.
The world brewers cup competition highlights the craft of filter coffee brewing by hand, promoting manual coffee brewing and service excellence. Around 40 competitors, all national champions in their home countries, joined the two-round competition, with just six making it through to the finals.
Before the presentation, Du ground her coffee beans twice — first crushing them loosely into large lumps before grinding them into fine particles-it makes the coffee evenly distributed and the remove of the silver skin covered pieces before the second grind makes the cup clean with clearer flavors.
She chose a different style of dripper from most of other baristas, so she could use thinner filter paper to gain a more even extraction, while the large opening at the bottom helped achieve clearer layers of flavor.
The brewing was the most exciting part to watch, since Du was the only competitor using both hands to pour the water while altering the speed that she decanted the liquid.
"There will be four stages of brewing. During the first stage, I will pour 60 grams of water at the speed of 6 grams per second for 10 seconds... and for the second stage, I choose to pour 80 g of water and adjust the pouring speed to 4 g per second for 20 seconds," says Du.