A family photo of Hu Jiulong (L2) [wenming.cn]
Recently, a series of incidents have taken place in Shiyan, central China's Hubei Province, which have brought love and warmth to people in winter.
On December 7, the first snow fell in Shiyan. Every winter is the slack season of blood donation, which leads to blood shortage. However, a man named Hu Jiulong, with a family of six, rushed to a blood donation center.
Hu said he and his mother planned to donate their blood and encouraged his other relatives to learn about voluntary blood donation. Moreover, he began to participate in voluntary blood donation as early as in his college age and inspired more people to join this charitable action.
On the night of December 10, an expectant woman, together with her husband, was on her way to the hospital when she encountered a high-speed closure because of snow.
At that moment, her husband called the police and soon two policemen drove them to the hospital. The woman successfully gave birth to a healthy boy and the family expressed their deep gratitude to the policemen.
On December 7, the Highway Bureau of Shiyan dispatched a large number of staff to carry out snow removal and de-icing on the bridge in order to ensure traffic safety for the general public.
On the same day, more than 10 students of a primary school sent more than 50 pairs of cotton-padded shoes and 30 scarves to children in a welfare home in Shiyan. These were made by the teachers and some of the parents, who spend two months weaving them.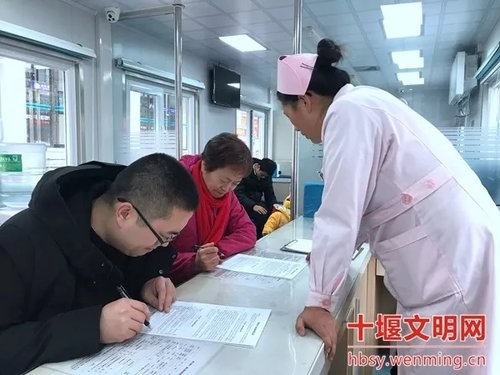 Hu Jiulong and his mother fill out the forms in a blood donation centre. [wenming.cn]
A girl helps another girl put on scarf. [wenming.cn]
A boy helps another boy put on his cotton-padded shoes. [wenming.cn]
(Source: wenming.cn/Translated and edited by Women of China)