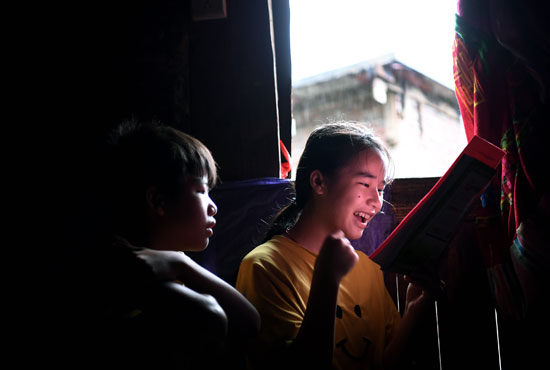 Liang Hongyue (right) reads the admission letter aloud by the window with her younger brother, encouraging him to study hard at home. [cyol.com]
A girl of the Dong nationality who comes from a poverty-stricken household in the mountainous region in Liuzhou, south China's Guangxi Zhuang Autonomous Region, began her high school study on September 1, according to a recent media profile.
Liang Hongyue, 15, started her high school life on September 1, the registration day for primary and middle school students in Liuzhou.
Four years ago, Liang's father passed away. Since then, she has been living with her deaf mother, Gun Peiyi, and her little brother. The special family was registered as a poverty-stricken household.
This year, with the help of the government and the society, her mother's handmade embroidery finds a broader market, which gradually brought them a stable source of income.
Their former dilapidated house is under renovation and Liang has also been admitted into Sanjiang Middle School in their county.
Before she left home for school, her mother gave her a set of handmade Dong clothing as a gift.
Liang said with a smile, "This is the best new school present my mother has ever given me."
On the first day of school, local village official Pan Cuiling brought Liang 1,500 yuan, which was a donation from a kind-hearted person in Beijing.
Liang took the money, saying, "My mother's silent love plus other people's help has strengthened my dream of studying hard to change my fate."

Liang Hongyue walks alone to her new school more than 30 kilometers away to sign up. [cyol.com]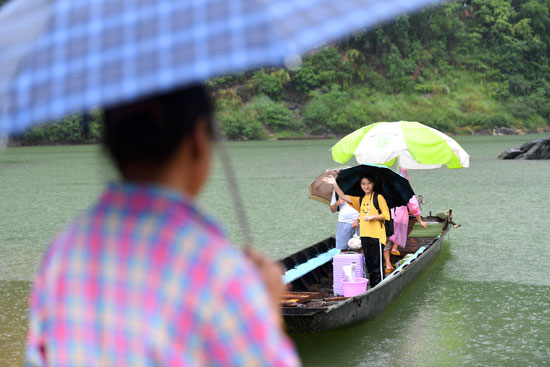 Liang Hongyue waves goodbye to her mother. [cyol.com]
Liang Hongyue's family dinner [cyol.com]
(Source: cyol.com/Translated and edited by Women of China)